Learn. Imagine. Provide.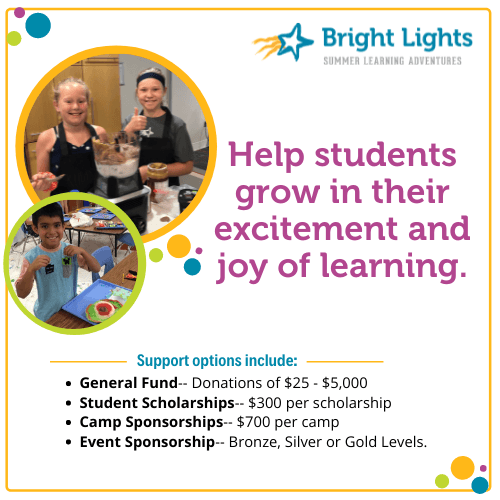 For more than 35 summers, Bright Lights has served the youth of Lincoln and the surrounding communities. As we look forward to Summer 2023, your support will help propel us forward, ensuring relevant, hands-on, STEAM-infused camps can continue to be held in the safest ways possible.
You can support Bright Lights as an Individual Donor, a Corporate Sponsor or an Event Sponsor.
For more information on donating to Bright Lights, please contact Megan Ockander at 402-420-1115 ext. 42 or click "Contact Us" below.
---
Donate online or mail us a check payable to Bright Lights:

BRIGHT LIGHTS, INC.
5561 South 48th Street, Suite 220
Lincoln, NE 68516

Bright Lights, Inc. Federal EIN 47-0708499
Thank you for your support!