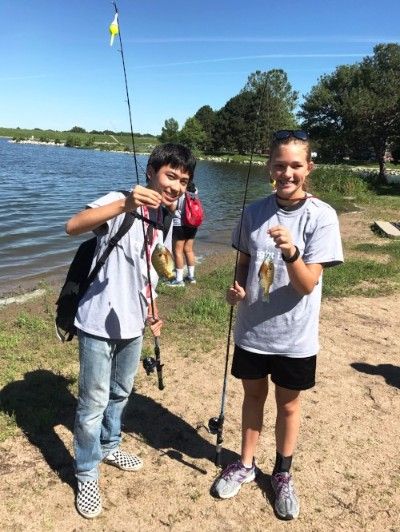 2022 International Camps
June 13-17, 9 AM – 12 PM at Lux Middle School
Bright Lights goes international! Make friends globally and share your interests with international students who attend Bright Lights as they learn about American culture and sharpen their English skills.
Bright Lights began its international exchange program in 2002 with Senshu Matsudo University Junior High School, a private middle school in a suburb of Tokyo. These dynamic Bright Lights classes are specially selected to encourage a natural cultural exchange through activities, science experiments, and fine arts projects. This exchange provides a unique educational and cultural experience, builds friendships, and fosters an understanding of the world. Coordinated by Barb Highstreet, who traveled to Japan in 2003 as part of a Fulbright teacher exchange program, local students will have an unparalleled international experience without leaving Lincoln.
Approximately 65 Japanese students and 75 American middle school students will attend camps together June 13 - 17, 2022, from 9 AM - 12 PM at Lux Middle School, 7800 High Street. Students should arrive at 8:00 am on Monday, June 13, in order to welcome the Japanese students when they arrive.
As part of their two-week American experience, they get to participate a home stay for four days and three nights in June. There is often a need for host families to house and entertain the visiting Japanese students. If you are interested in this amazing hosting opportunity, please contact Lux Middle School at 402.436.1220 for more information.
Students may choose to take part in an optional afternoon (Thursday, June 16) of bowling at no cost to them. Please read and agree to the Behavioral Expectations for those who Ride Bright Lights Buses prior to attending.
June 13-17, 9 AM – 12 PM at Lux Middle School
What people are saying about the International Program
"Meeting the Japanese students this year opened up a new door for our son. He thoroughly enjoyed getting to know them and learn about their lives in Japan. Being able to devote extended time to the projects they worked on in class allowed him to have a sense of accomplishment and growth in the skills taught in class. He would love to come back again next year."

"Absolutely loved the experience with the American and Japanese students. There is no greater experience than watching the youth of two different cultures come together, share and communicate with other."

"This was one of my best Bright Lights experiences so far. The kids were a very engaging class that challenged themselves musically while at the same time connecting with the students from Japan. They were great hosts and enjoyed making music together."