Volunteer as a Bright Lights Classroom Assistant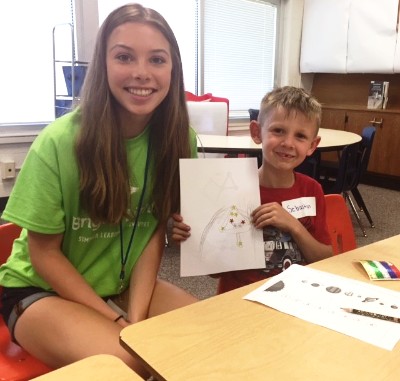 Bright Lights Classroom Assistants play a valuable role in the summer program. Their commitment helps support the teachers, ensures student success, and provides a rewarding experience that makes a difference in the classroom.
Summer is a great time to complete volunteer hours for GOPO, service hours for the parochial schools, or other service project hours. To meet the required 20 hours for GOPO or service hours, assistants must attend the orientation, assist the teacher with classroom set-up, and be in attendance the full program week.
In addition to volunteers skilled in working with children, Bright Lights needs assistants who have specific proficiencies, such as photography or technology, or who have a high interest in specific topics such as art, writing or drama.
Bright Lights welcomes students who have completed ninth grade, college students, and adults. On average, 240 assistants are needed each summer for the half-day classes, international program, and day camps. Most classes utilize two assistants and many assistants return from one year to the next.
Not only do the Classroom Assistants contribute to the success of the classroom, but they will also: 
Learn about behind-the-scenes classroom preparation and planning.
Develop skills in classroom management and organization.
Expand their proficiency in developing positive relationships with both children and adults.
Enjoy exciting and fun experiences with other assistants.
If you are interested in learning more about other cultures or obtaining a college degree in International Studies, you may consider assisting in one of the classes in the Bright Lights International Program. The classes are comprised of both Japanese and American students.

As a classroom assistant, you will have an opportunity to explore the education field as a career option.
What did other Classroom Assistants say about their experience at Bright Lights?
"They really look up to me as classroom assistant and it's very easy to learn in a fun, exciting way."

"Number one, you're never too old to play with children :) I am always reminded of how creative little kids are, and working with them helps me to see situations in a different light in order to reason with them or explain something. They made me laugh a lot."

"It was refreshing to see kids so engaged in learning."

2018 Program Dates
Main Program Site: Holmes Elementary School, 5230 Sumner Street
Week 1 June 4 - 8
Week 2 June 11 - 15
Week 3 June 18 - 22 International Program at Lux Middle School, 7800 High Street
Week 4 June 25 - 29
Week 5 July 9 - 13
Applications will be accepted beginning in March 2018.
Apply early for the best selection of classes that match your interest area.
For additional questions or if an assistant is unable to attend one of the orientations, please call Jodi at 402-420-1115 ext. 49 or email ClassAssist@BrightLights.org.