Star Search Scavenger Hunt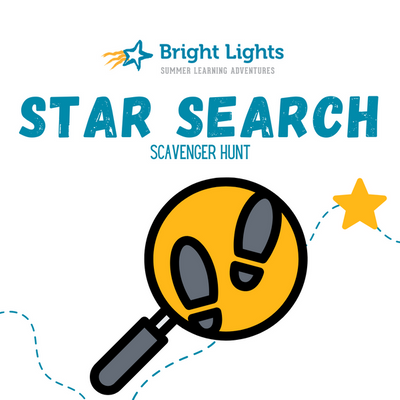 Welcome to Bright Lights Star Search! This is a family-friendly, team-based scavenger hunt that will take place all over Lincoln! With over 50 missions to choose from, your team will find plenty of opportunities to have fun, be silly, interact with each other and earn points.
Registration is $35 per Team - a team consists of all the people in ONE vehicle.
On Saturday April 23, check-in at Firespring (1201 Infinity Ct) begins at 9:30 am with the game running from 10 am-12 noon. After the game ends, return to Firespring for lunch and prizes. 100% of proceeds support Bright Lights camps! Challenge your friends, family, and neighbors to see who can rack up the most points and search Lincoln for its greatest stars!
On Game Day, you will need:
1. Your team! Want to dress up, wear matching shirts, colors or costumes? Bonus Points!!
2. A Smartphone with the GooseChase app downloaded and ready to go.
3. A single vehicle that can safely transport all members of your team- team members must all be in one vehicle together to participate.
4. High Energy!
5. A willingness to be silly, put yourself in silly situations and to have fun!
Ready to play? Let's review some basics:
- Per all current DHMs and Health and Safety Measures as set out by the Lincoln Lancaster County Health Department (LLCHD), face masks are not required but recommended when a space of 6ft or more cannot be kept from others. Please follow all staff and volunteer directions and model healthy behavior for everyone. If you are feeling ill or have symptoms of Covid-19, please stay home. Registration for this game confirms you agree to comply with all Health & Safety Regulations. If a DHM changes, participants will be required to follow all safety requirements as set out by the LLCHD.
- All pictures and videos submitted through the Goosechase app for the purpose of Bright Lights Star Search may be used on Bright Lights Social Media channels and website
- Your registration fee is a direct donation to Bright Lights. 100% of the fee goes back to support Bright Lights and its programming. There will be no refunds due to inclement weather or situations outside of Bright Lights control.
Thank you to our sponsors:
Mitch Becker with Edward Jones
Firespring
Allo Communications