We are still accepting applications for Class Assistants!
Do you have some experience with archery or skateboarding? Or are you more interested in engineering and robotics? Bright Lights needs you. Apply now to be a Class Assistant. Don't forget to list your class preference! As of May 20, here are some classes still recruiting for a Class Assistant:

-Digital Photography (June 5-7 AM)
-Disgusting Science Experiments (June 3-7 PM)
-Craft College (June 10-14 AM)
-Skateboarding Basics, The Bay Skate Park, (June 24-28 AM)
-Robotics: LEGO Mindstorms EV3 Day Camp, Holmes Elementary (June 10-14, 9 AM to 4 PM)
-Outdoor Adventures, Lux Middle School (June 17-21 AM)
-World Music Drumming, Holmes Elementary (June 24-28 AM)
-Edible Science (July 15-19 AM)
-Diggin' Up Dinos, Holmes Elementary (July 15-19 AM)
-LEGO WeDo, Holmes Elementary (July 15-19 AM)
-Aim for the Target, Nebraska Game and Parks Outdoor Education Center, (July 15-19 PM)
-Robotics: LEGO Mindstorms EV3, Holmes Elementary (June 24-28 PM and July 15-19 PM)
-Office Assistant (July 15-19 PM)
Class Assistant Orientations Approaching!
All Class Assistants should attend an orientation prior to serving.
Saturday, May 18, 9:30-11, Holmes Elementary
Wednesday, May 29, 4-5:30 p.m., Holmes Elementary
Make-up orientations: 9 a.m. May 31, June 7, June 21 and July 12, Holmes Elementary.
---
Who Can Apply?
Bright Lights needs approximately 250 class assistants for the summer program. Current and rising high school students (completed 8th-12th grade as of June 1, 2019), college students, and adults are welcome to apply. College education majors are also encouraged to consider this opportunity. College students will receive a certificate of appreciation suitable for portfolios and resumes.
Please DO NOT use your LPS or school email address as you will not receive a confirmation email from us. This address is not a valid email address.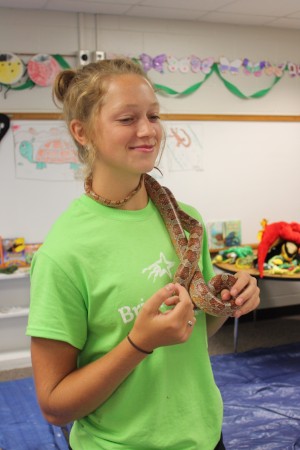 How to Apply
It will take about 15 minutes to complete the online application. The application requests basic information and availability as well as the name, address and phone numbers of two references. Applicants should consider or take into account their personal vacation dates, job schedules, camps, and other activities when applying. A background check will be required of all applicants new to the program who are 19 years of age and older by June 1 of the program year. Applicants under 18 will need a parent's consent.

Applications should be submitted as soon as possible. This allows Bright Lights to better accommodate an applicant's choice of session(s) and time(s). Candidates with a broader date and interest range give Bright Lights greater flexibility of placement. Candidates will be notified of their application status by May 15.
Responsibilities
Class Assistants will be assigned a variety of of responsibilities during the program week. Some of these responsibilities may include small-group work, reading to students, preparing materials, coordinating games on the playground, and working with individual students.
A responsibility list will be sent to the assistant with his/her assignment, including the teacher's name and contact information, before the summer session. The assistant should contact the teacher prior to the beginning of his/her class.
Class Assistant responsibilities include:
Attending a 90-minute orientation. This orientation is required for first- and second-year assistants and will provide safety procedures and tips for working with young students. See the

Class Assistant Calendar

for orientation dates.

Helping the teacher prepare the classroom on setup day (generally the Friday prior to the program week).

Arriving and working with the teacher 15 minutes before class and 15 minutes after class.

Helping clean up and move out of the classroom at the conclusion of the program week.
Convictions that disqualify class assistants:
Any drug distribution activity or felony drug possession

Any sexual offense

Assault, including domestic violence-related incidents

Child abuse, molestation, or other crime involving endangerment of a minor

Any other felony or crime involving moral turpitude. 
---
For questions about this rewarding opportunity or about class assistant placement, please contact Jodi at 402-420-1115 Ext. 49 or email ClassAssist@BrightLights.org.