For over 30 years, Bright Lights has been providing Lincoln area youth the opportunity to focus their talents, strengths and interests in summer camps that make the most of their out-of-school time. Here's the impact Bright Lights made this past summer: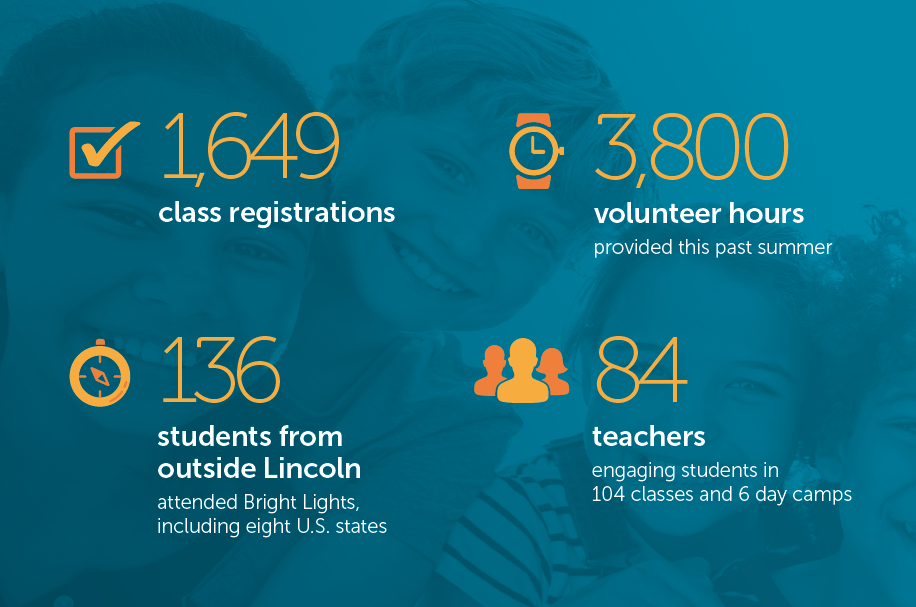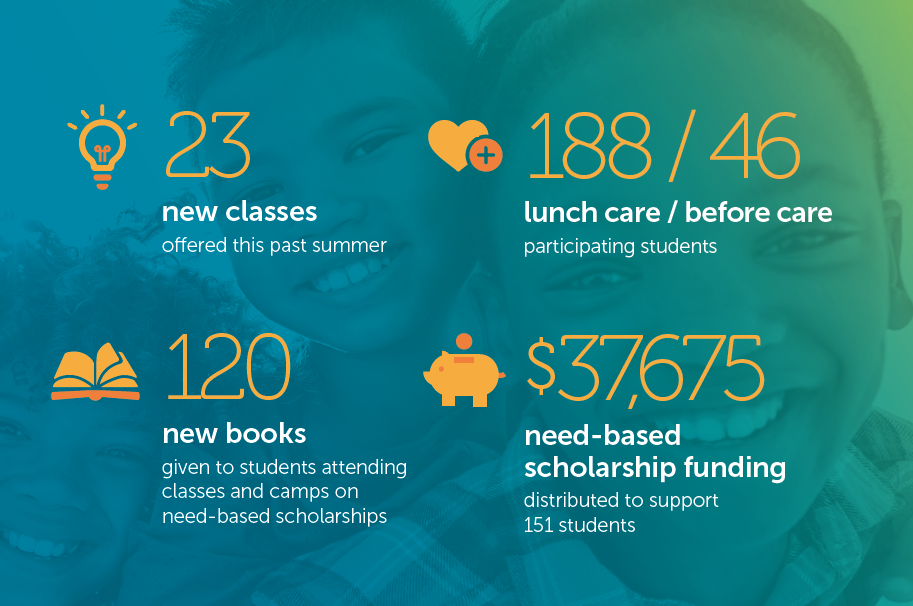 Our Students
Bright Lights provides students the opportunity to focus on their talents, strengths and interests in summer camps that make the most of their Out-of-School Time (OST). With engaging curricula and camp topics, students are challenged in these expanded learning opportunities (ELO) to connect with other students who share a common excitement for the topic. The schedule offers a broad range of grade levels and curricula so there is something of interest for all of the students in a family.
Students who participate in high-quality expanded learning opportunities (ELO) such as Bright Lights have been shown to demonstrate:
Better work habits

Stronger task persistence and self-efficacy

Improved pro-social behavior with peers

Greater gains in academic and behavior outcomes

Narrowed gap in math achievement 
​Lowe Vandell, Deborah. The Achievement Gap is Real. (2013) Statewide Afterschool Networks.
Our Teachers
Bright Lights teachers are chosen for their passion in their field of expertise and ability to engage students in that subject. From certified teachers to university professors, medical experts and community artists, Bright Lights teachers bring an impressive array of talent. Each year, approximately 85-90 percent of the teachers return to teach another season of camps and some of the teachers have more than a fifteen-year history with the program.
"Bright Lights truly is an amazing experience for children to participate in. They are challenged in a new way and can realize that learning is fun. It's not all about testing or getting things done at a certain time, its about exploring themselves through the learning. Bright Lights is a positive place for students to come in the summer and be encouraged to think outside of the box and have a great time doing it."
- Bright Lights teacher
Our Classrooms
Bright Lights works to provide a friendly and engaging learning environment. We believe learning should be engaging and fun, inspiring curiosity and passion in a safe environment. Passionate teachers and students bring talents and gifts that motivate each other to learn. And when that learning is supported by the community, it becomes more accessible for all students and is able to create life-changing opportunities for them.
Bright Lights' unique camps and curricula allows students to pursue their fields of interest with others who share that same curiosity and enthusiasm. The range of ages per camp is generally limited to two or three grade levels. With a low teacher-student ratio of 1:7, students can expect plenty of attention.
The classes consist of a wide variety of topics and incorporate STEAM-based activities or curricula (Science, Technology, Engineering, Art and Math) in almost all of them, including the literature, social studies and outdoor education camps. As the opportunities for STEAM careers continue to increase, students benefit from an early exposure and experience in these areas.
The block schedule (three-hour, half-day camps or six-hour, full-day camps) provides students with ample time for exploration and in-depth study. Field trips, experimentation, problem solving, creative thinking, collaboration and exploration - there is time for all of this and so much more!
Bright Lights rents space in a Lincoln Public School facility where the majority of the camps are held. Camps are also held at many community sites, such as the University of Nebraska-Lincoln (UNL), Pioneers Park or Holmes Lake. Camp locations, speakers and guests reflect the community's participation in the program. With this outreach, Bright Lights works to familiarize students with the resources - both people and places - of the community in which they live.