Students
Here's what Bright Lights students say about their Summer learning adventures...
"I learned that I want to become a bio engineer when I grow up. I enjoyed learning how a radar gun works. I enjoyed learning about how the field of engineering is used for farming."

"I enjoyed touring the different engineering spots such as the day we learned about bio medical/agricultural engineering and when we learned about the Tractor Testing. I also enjoyed learning how to make a robotic car from a DVD player. The day at Henry Doorly Zoo was amazing where we were able to walk above and underneath the aquarium to see all of the fish in quarantine."

"It was cool to see cows at an organic farm and sample homemade cheese."

"My class was SOOO much fun. You could decide what you wanted to do. You learned about topics that will really take place in our futures."

"The fact that we focused on nano technology, its uses and how it may help with some of the problems we face today. I especially loved the activities such as the invisible ink, hydrophobic clothes and the talk about graphene. These were all interesting topics I'm glad I got to learn about."

"I loved playing 50 blank white cards and making board games, but most of all, I loved EVERYTHING!"

" I liked that people came and showed us what they knew about Italy's food and culture. Chef Nader showed me a new kind of cooking.

"It was fun!!!!! I learned a lot. I made new friends."
Parents
Here's what parents say about Bright Lights Summer programs...
"My kids can't wait for next year! As a parent to hear them say they've had the best summer is priceless. The organization is well planned and the kids learn so much, often without realizing how much they are learning. 

"Thank you for supporting this program, for all who take the time and dedication to make this a great program a success, and for making it a memorable experience for my kids. We will always support a program that continues to further a child's education and learning experience. If we as adults don't provide the opportunities to children, then children won't have those opportunities. So, once again, thank you… A job well done!"

"My son has had a wonderful experience both years he has attended the Bright Lights program. This year he said he wished it lasted all summer long! He learns teamwork, academic application and respect for other's ideas. The staff and high school volunteers are spectacular. They really seem to enjoy being with the students."

"My son is not a big 'joiner.' He is not interested in sport camps or team sports and this class the past two summers has really given him an opportunity to connect with other kids who have similar interests, and he comes home excited every afternoon. He even came home and read every afternoon following class (for house points). What is better than a kid reading during the summer?"

"My six-year-old thought she was spending a week enjoying Dr. Seuss, but it was so much more than that! She learned about science, math and other subjects in a fun environment. I don't think she even realized she was learning."

"My child is very introverted and shy, but she has always thrived in the Bright Lights classes. The teachers and helpers have always made her feel welcome and appreciated."

Donors
Bright Lights goal is to promote the habit of life-long learning while having fun and making friends. We rely on our donors to invest in our diverse, quality hands-on leaning programs. With support and dedication of friends, Bright Lights, a nonprofit organization, continues to be a vital part of summer learning opportunities in the Lincoln area.
"Olsson Associates is proud to support Bright Lights as a class sponsor. The future of our firm depends on students who are exploring their interests in engineering, math, and science today. Bright Lights classes promote explorations and encourage critical thinking, which hopefully will lead these students into careers as tomorrow's engineers and scientists." (John Olsson, Olsson Associates)

"Bright Lights believes every child has unique talents and gifts. By allowing students and teachers to focus on subjects where their interests lie, students are inspired to feel passionate and curious about learning. Bright Lights offers a safe environment for learning by providing a place for children of all backgrounds to share their common interests." (Talent Plus)

"The children of Lincoln Industries families love Bright Lights. For these children, it's a great way to learn and engage art and science in new and interesting ways. We are very proud of our partnership with Bright Lights." (Candiss Kleen, Lincoln Industries)

"Bright Lights gives children tremendous opportunities to explore the world around them in a fun, educational atmosphere. Union Bank is proud to help kids become better students and members of the community – now and in the future." (Sally Jarecke, Marketing Director, Union Bank)

"Time Warner Cable is proud to be a Bright Lights supporter for 15 years! It is gratifying for us to underwrite initiatives such as this, which brings education to the next level, and has such a great impact on so many students and families in our community." (Daniela Mesquita, M.A., Time Warner Cable)

"Runza Restaurants is proud to support young people through Bright Lights! The diversity and specialization of classes offered and the dedication of the classroom volunteers make the summer enrichment program a top notch learning opportunity for students during the summer." (Becky Perrett, PCM Director of Marketing, Runza Restaurants)

"SolutionOne has been a Bright Lights supporter for 22 years because they provide quality education to the children of Lincoln and Southeast Nebraska regardless of their ability to pay. We support young people through Bright Lights because we believe in giving back to our community. Bright Lights summer programs make Lincoln a great place to live and work. I encourage all parents to enroll their kids in a summer program next year." (John Kuchta, President, SolutionOne)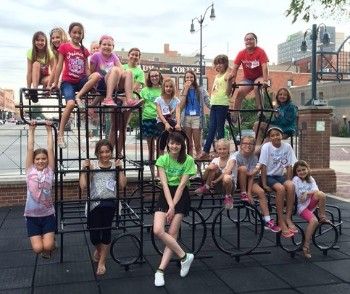 Scholarships
Children who attend Bright Lights classes often need scholarships to cover their costs. One partial scholarship is offered per student showing financial need. Each year, approximately one-fifth of the students take advantage of this opportunity.
Learn how to provide to Bright Lights scholarship fund.
Learn about applying for a scholarship.

"My parents couldn't afford to send me to a pottery class that used the potter's wheel and I never forgot that disappointment, so I was grateful when my child was given a scholarship when we first started going to Bright Lights and now we are able to send her to multiple classes. We are happy that Bright Lights has become a tradition that broadens our daughter's sense of discovery and supports her education."

"Love the summer enrichment, and ability to qualify for a scholarship to make it affordable!!"

"Both my children have thoroughly enjoyed the Bright Lights sessions they participated in last year and this year. They couldn't wait for summer to come so they could attend again this year. It would not be possible for us to participate, however, without the scholarship program. Thank you for allowing my children the opportunity to learn and be creative!"

My daughter loved it! We would not have been able to attend if it weren't for the scholarship and we are so THANKFUL for that. Thank you and keep up the good work.

"Thank you for the grant for my two daughters to attend the Bright Lights class. They had a great time, and learned a lot about the class they attended. We would not have been able to participate without the tuition assistance."

"Thank you again for making it possible for children from all socio-economic backgrounds to attend. I am a single parent of 3 and a full time student and the boys would not have been able to participate if it were not for your scholarship program."

"I appreciate scholarships in these kind of activities because I'm a single parent of 3 (2 small ones) and would never be able for my child to be involved without them. I'm grateful. Thanks."