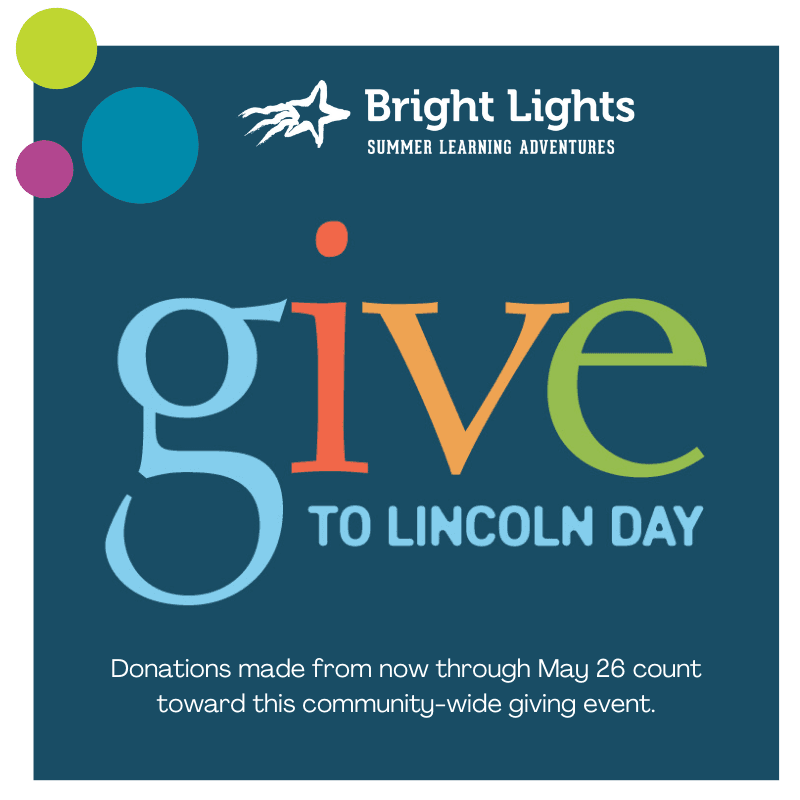 Give to Lincoln Day is an annual event organized by the Lincoln Community Foundation. It is a dedicated time for people to donate to non-profits in the community and have their donations increased thanks to a matching fund.   
While Give to Lincoln Day is actually on May 26th, donations can be made at BrightLights.org from now until then.
Every donation makes a bigger impact on Give to Lincoln Day because nonprofits also get a proportional share of a $500,000 match fund made possible by LCF and generous sponsors. This means all donations made to Bright Lights during this time will have an even greater effect on our future students and the camps we provide. Teacher salaries, supplies, rental fees, all are paid for by donors like YOU!   Celebrating and supporting local non-profits is an amazing way to connect and unite our community. Over half of Bright Lights annual income comes from student registrations, the remaining comes from generous donations from individuals, organizations and foundations.   
We are so excited to kick off our 36th Summer in just a couple of weeks, by hosting nearly 100 hands-on learning camps! From Hogwarts to Little Picassos, Robotics to Paddle Sports, we can't wait to get kids excited about learning this summer once again. 
We are so grateful that Give to Lincoln Day is happening right NOW, and your gift can have a tangible impact on the future of Bright Lights. Thank you for your support!