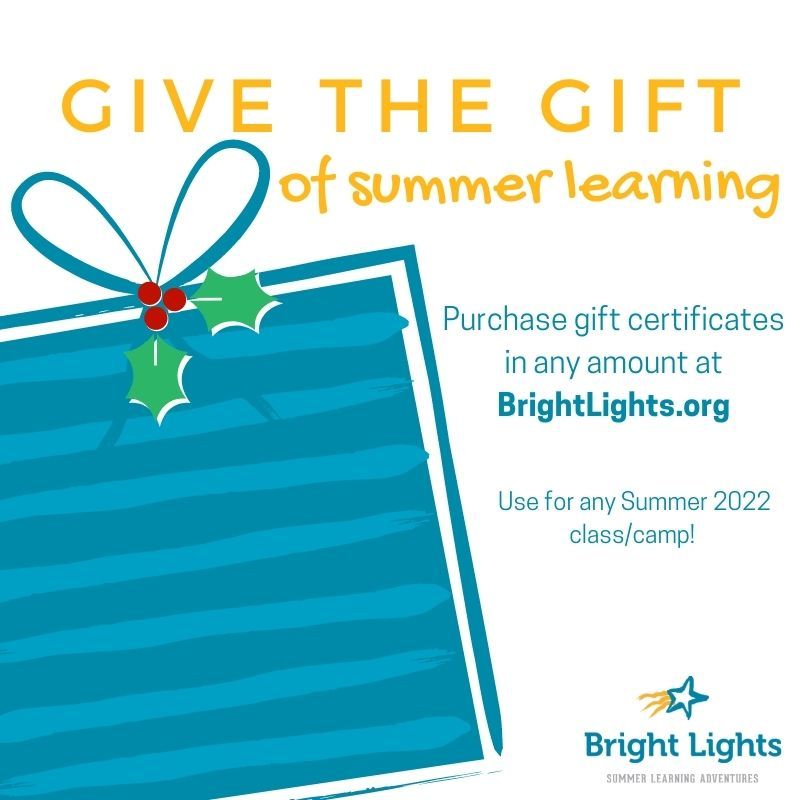 It seems that every year there's a new version of the "Most Popular Gifts for Children" list. It will include books on it, building toys, art and music toys and much more. But the one thing rarely found on those lists—the one thing that gets horribly overlooked—is giving a child an experience. Something that allows them to have fun, explore a topic of their choosing and make new friends.  
So let's make this the year that option doesn't get overlooked! Give the K-8th grade students in your life just such an experience with a gift certificate to attend a Bright Lights half-day or full-day camp of their choice during Summer 2022! 
It's these types of experiences that stay with and shape a child long after the toy of the moment has been broken, lost or outgrown. I know this because, as a Bright Lights staff member, I have heard from former students about their camp experience: How they loved choosing a Bright Lights camp topic that interested them, how they made new friends at camp who shared that same interest, how they had amazing experiences at camp and even how it later was part of what led them to their chosen profession. 
As a mom of two boys, I have also seen how their camp experiences impacted them: The new friends they introduce me to, the new skills and fun experiences they are excited to tell me about when I pick them up from camp and how the knowledge they learned at camp sticks with them. For example, it was months after his Bright Lights camp about insects ended when my then six-year-old son not only noticed a praying mantis on a tree as we walked to school one day but proceed to tell me ALL about it. I can still picture exactly where we were in our route, and remembering the excitement in his voice as he shared his knowledge with me melts my heart to this day. 
And this is all in addition to the FUN that students have told me they had in their Bright Lights camps. Yep, we make learning fun!  
Plus let's not overlook some added mom benefits:  
1) The gift of summer learning through a Bright Lights camp is not another "thing" for me to ask him to pick up off the floor of his room. 
2) It's one of the easiest gifts to purchase. You can purchase a gift card in any amount just by visiting BrightLights.org.
Our Summer 2022 camp schedule will be available on our website in February, at which time your recipient can look through our camp options, choose the camp topic that most interests them and then redeem the gift certificate during registration, which opens at BrightLights.org on Saturday, March 5.  
Want to add a little something extra to your gift? Set a special date with them to look at the camp options together and pick out their camp! We have some families who have told us doing this has become a very fun tradition for them.  
So here's to getting our shopping not only done but done well, and the impact of our gifts lasting well beyond this holiday season.