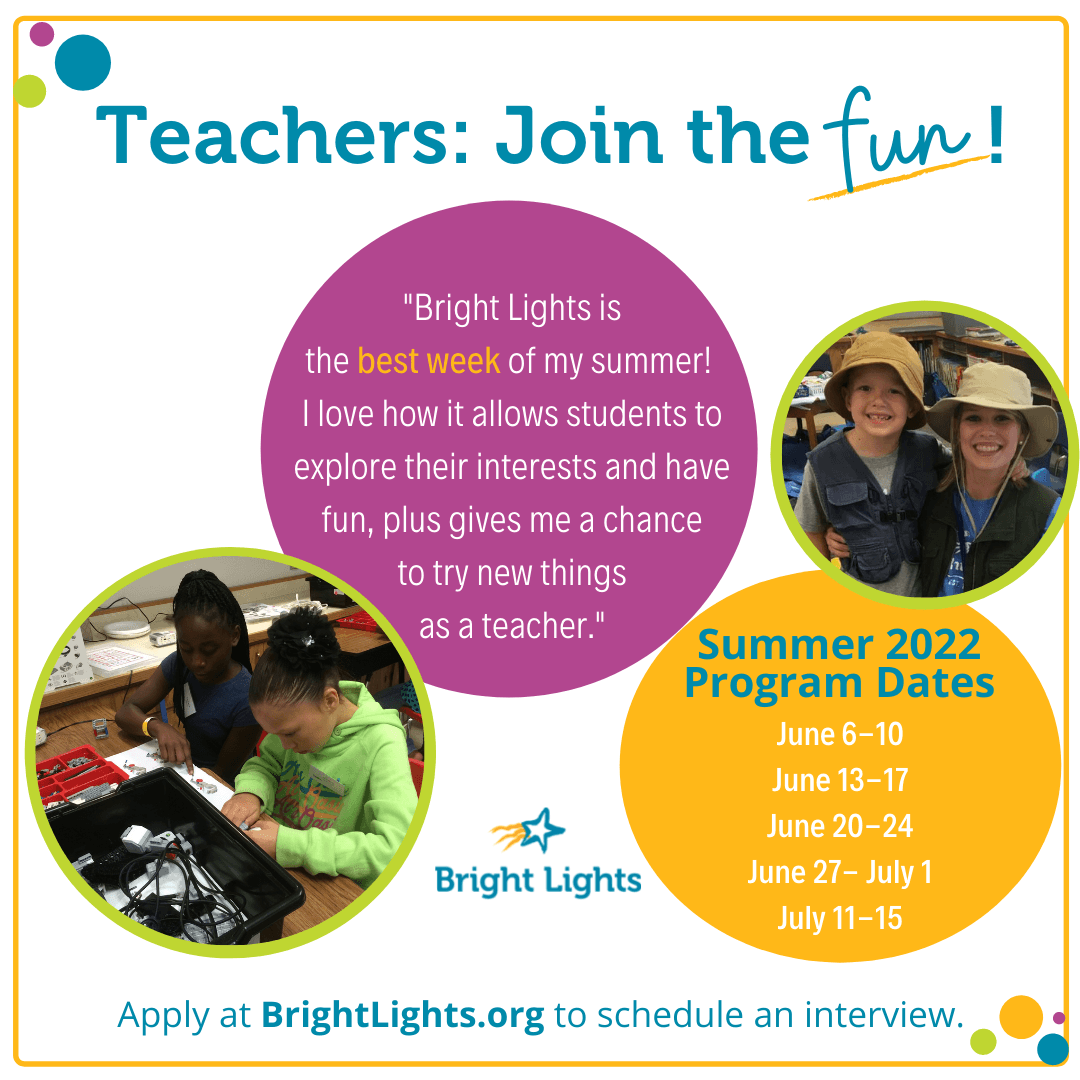 Each fall we recruit teachers who are interested in adding new ideas and curricula to our summer schedule. The Bright Lights program owes much of its success to the creative, capable and committed teachers who bring topics to life for our students. We operate each summer with the help of 80 or more teachers who choose topics that are of high interest to them, and then channel that knowledge and passion into half-day or full-day experiences for students.  
So what's involved in being a Bright Lights teacher?  
First, you don't have to be a certified teacher. We have many instructors who are members of the community that have a skill to share or are retired professionals looking to inspire the next generation. As a teacher, you commit to creating high-interest, hands-on curriculum (with our help, if you need it) that is suitable for a grade range (again, determined by your interests and preference) beginning at kindergarten through 8th grade.  
Second, you attend a training meeting in April and then teach for a week in June or July. You can request which week you teach based on your schedule, choosing a half-day morning (9:00 am-12:00 noon) or afternoon (1:00-4:00 pm) class. You can even co-teach with a friend! 
The benefits? You're paid, you're teaching something you enjoy and you are surrounded by students engaged in the topic. Here's what one of our teachers had to say about her experience this summer: "It was so much fun to teach something I'm passionate about and to share that passion with others. I can't wait to teach again next year!" 
Are you interested in adding this experience to your summer in 2022? Online teacher registration is now open – just visit https://www.brightlights.org/teachers/teach-for-us.html and click on Apply Now. You'll complete a form and be contacted to schedule an interview. 
We hope you—like our students—will try something new this summer and check out what Bright Lights has to offer!