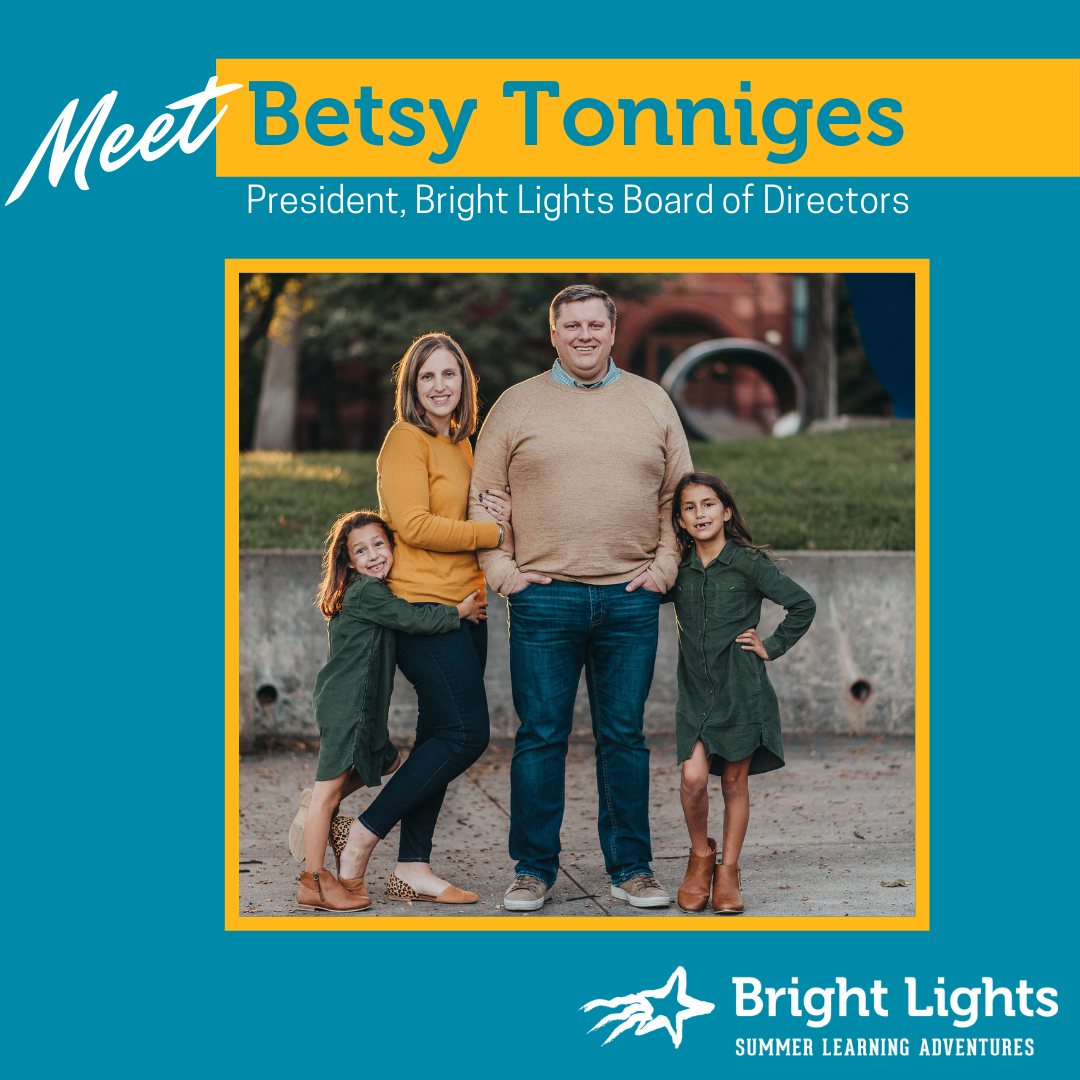 We just wrapped up our Summer 2021 camps—our 35th summer of camps! -- and are already planning for next summer, which is where I come in!  
My name is Betsy Tonniges and I am serving as president of the Bright Lights board of directors this year. The core Bright Lights team is small but mighty, and is supported by a wonderful board representing a variety of industries and businesses here in Lincoln. I became involved with Bright Lights a few years ago when I was a principal at McPhee Elementary in Lincoln Public Schools. Many of our students were awarded scholarships that allowed them to attend Bright Lights over the summer and I was able to see first-hand the impact it made on them not only academically, but socially as well. As students shared with me their excitement for camp, I knew that I needed to be a part of a program that worked so hard to support our students during the summer months. I now have two children who attend Bright Lights camps each summer where they have gained new skill sets that have shaped their leadership and communication skills and stretched their thinking.  
It is a bit surreal to think about the amazing longevity of Bright Lights in our community and all it has offered (and continues to offer) generations of students. Here's insight on just a few things that have been accomplished by Bright Lights:  
Provided 35 summers of educational summer programming that continuously evolves based upon demand and feedback. 

Positively impacted the lives of so many in our community (and now beyond!) thanks to thousands of volunteers and hundreds of teachers over those 35 summers. 

Continues to be a leader in learning opportunities focused on STEM education. 

Shifted during COVID-19 to meet the needs of students, including providing online learning opportunities.  

Collaborates with our public school system to make summer enrichment available for all students. 

Created a learning family, as year after year excited students return as campers, then as camp assistants, and finally as teachers and parents. 

Garnered community support through donations by both large companies and individuals who understand the importance a Bright Lights experience can have on a student. 
These are just a few examples of the impact of Bright Lights on our community. As we work to continuously evolve our programming to support our students and families, I hope that you consider supporting our efforts too through planned giving, individual giving, volunteering or serving on our board of directors. This will ensure that Bright Lights remains a high-quality option for families for years to come.