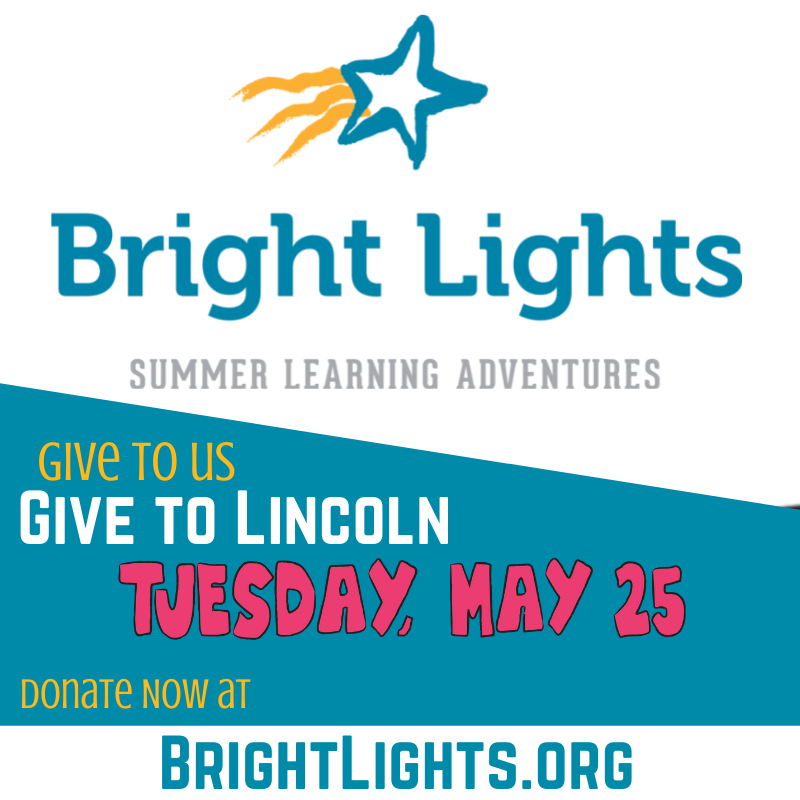 Give to Lincoln Day is today! 
This event, coordinated by Lincoln Community Foundation, is a time when everyone in Lincoln is asked to make a donation toward the organizations that are critical to the care, support and spirit of our great city. In addition, donations made today through the event will get a portion of a match fun, making your donation go even further! 
Bright Lights is so thankful to be a part of such a wonderful day that celebrates all the hard work local nonprofits do to keep Lincoln a thriving, vibrant community. As you may recall, Bright Lights was unable to hold in-person camps last summer due to COVID-19, resulting in a loss of half our annual income. Instead we flipped things around to offer free virtual camps to students and their families. But now, in just a few short weeks, we are excited to kick off our 35th Summer by hosting in-person camps once again! We are so grateful that Give to Lincoln Day is happening right NOW, and - thanks to the matching fund - your gift can have an even greater impact on the future of Bright Lights.   
Thank you for supporting Bright Lights today, we can't wait to see where your gift takes as we move forward offering unique, hands-on camps to students this 35th Summer and beyond!