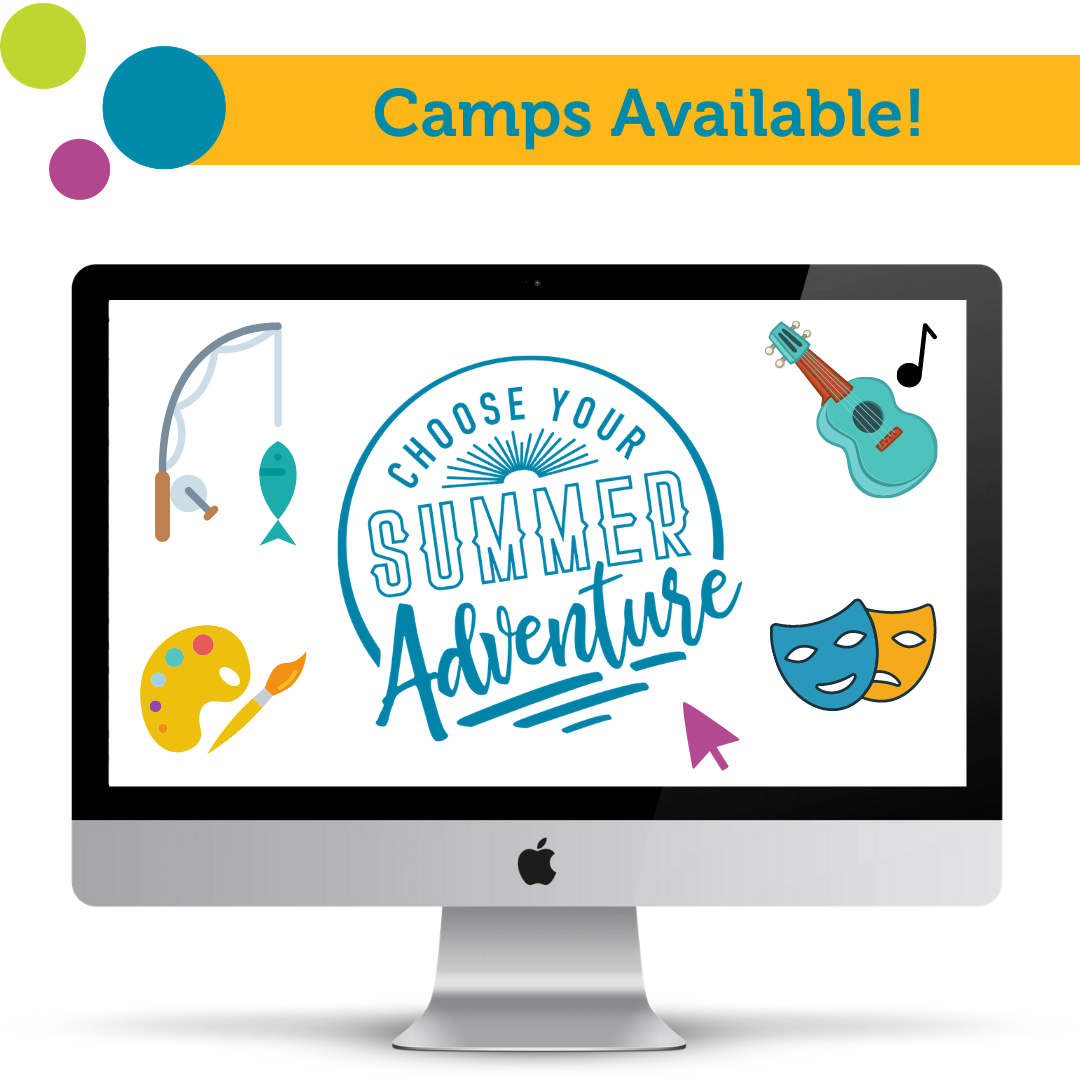 If you asked your student what he or she missed most this past year, what do you think would be the answer? I bet one of the most missed activities was spending time with friends, both in and out of school. It's easy to take "hanging out" for granted until it's no longer an option. By attending a Bright Lights half-day or full-day camp you can once again open the door to new friends and engaging activities. And we still have room in many excellent camps: 
#310 Outdoor Adventures for grades 6-8: Talk about being active! Students will spend two days fishing at Holmes Lake and then another two days visiting a working farm in Waverly. Taught by an avid outdoorsman, students leave this half-day camp with a renewed respect for nature, confidence to tackle new activities and an appreciation for sustainable living. And what a great way to shake off the cobwebs of so much screen time during the past year! 
Art Camps
"I found I could say things with color and shapes that I couldn't say any other way – things I had no words for." – Georgia O'Keefe 
We have numerous camps that focus on different aspects of art – painting, photography, history. Art has always been a way for people to express emotions that can be difficult to voice. After such a tough year, these art camps might be just what your student needs to express herself and find a new passion: 
#224 Scrapbooking Stories for grades 3-5: Put together photos and mementos to create a scrapbook of memories. What a great gift to share with someone that you couldn't see or spend time with during quarantine – like maybe a grandparent?  
#226 Artists Traveling Abroad for grades 4-6: Investigate and appreciate art from Paris, Giza, Venice and Tokyo, and then create your own art based on the techniques you study. 
#304 Adventures in Art: The Wonder of Nature for grades 6-8: With a focus on nature and led by a veteran Bright Lights teacher (and leader of the Funky Furniture camp), this camp is sure to inspire students with new art techniques and a unique perspective on the nature that surrounds us every day. 
Music Camps 
#720 Uke Can Do It and #822 Beyond Beginner: Uke 2.0 are both for students in grades 4-6, but offer different instruction based on experience playing the ukulele. Since many clubs were unable to meet during the school year, your student may have missed the opportunity to learn how to play the ukulele, or how to play it at a more advanced level. If you took part in our virtual Flipside camp last summer, you may remember how engaging Mr. Brookens is with students and how he makes learning fun.  
#302 Broadway Bound for grades 6-8: Get those jazz hands ready! This is your student's opportunity to perform songs from current Broadway shows, guided under the expertise of Leah Kolar, founder and Artistic Director of Theatre Arts for Kids. If you didn't have the chance to make music during the school year, this is a great opportunity to gather with fellow performers to create high energy musical theatre. Additional precautions and distancing will be in place to make this a safe and fun camp. 
Make sure to check www.BrightLights.org to view the rest of our schedule and register for these or many other camps. Registration remains open until a week before the camp begins, so sit down today with your student and make a plan for some summer fun.