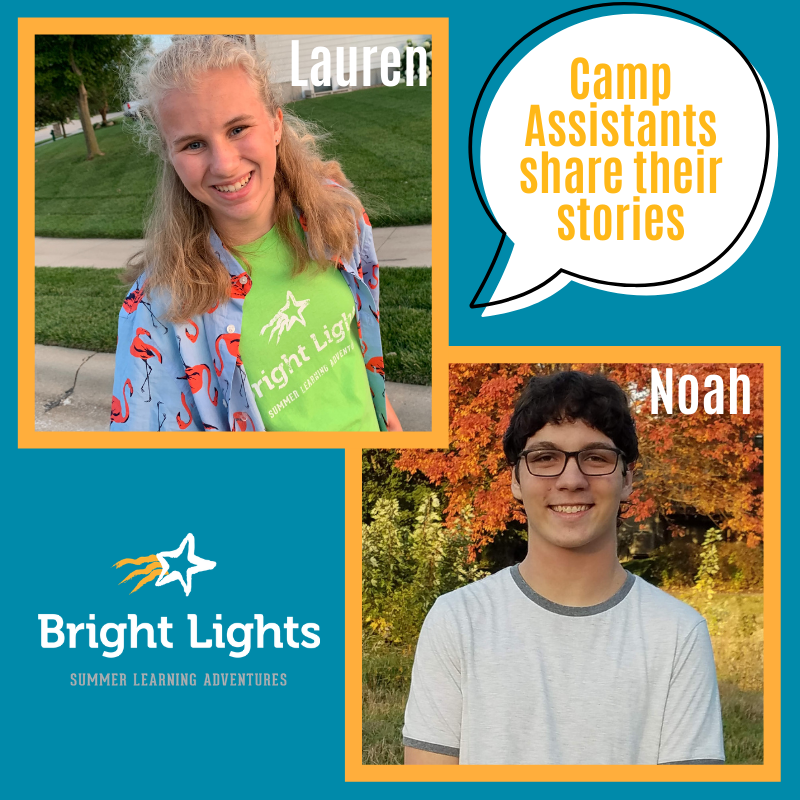 What's so great about volunteering with Bright Lights summer camps? Two of our Camp Assistants are here to tell us! 
Noah Goldberg, Lincoln East High School Senior 
My mom has been teaching a Bright Lights camp (French Cooking) for several years now and I thought it seemed cool, so I decided to try to be part of it. 

I did two camps my first year and one my second year. I've been an assistant in camps about things I'm interested in, and I almost always learn something new. 

I love how a lot of the kids in your camp look up to you. Every year I have a few kids tell me that they really want to be an assistant when they get old enough, and that is a really cool feeling to get. 

Being an assistant is a really fun thing to do. I also volunteer at the city library during the summer and being an assistant has helped me talk to kids better and help them. 
Lauren Moon, Lincoln High School Senior 
I have been a Camp Assistant (CA) for 3 years, mostly for LEGO Robotics classes but also for wood working at Lux. I wanted to be a CA because I had been a camper for 7 years and enjoyed the Bright Lights community. I wanted to give back and make amazing summer experiences possible for other kids as CAs had done for me. 

The environment is light-hearted and focused on everyone having a good time, which makes Bright Lights not your usual volunteering gig. I look forward to Bright Lights every year. 

Most of the time the campers can figure things out for themselves, but sometimes they need a little nudging or help. I have learned not to underestimate campers' creativity and willpower, and that I am not as good at Four Square as I should be. 

From Bright Lights, I have gained skills dealing with elementary and middle school-aged children that have proved useful, and it has been a good addition to my resume. I would recommend everyone to apply to be a CA at Bright Lights this summer because it is a fun and easy way to be involved in the Lincoln community. 
Know a potential Camp Assistant recruit? Applications are now being accepted at www.brightlights.org or go directly to Active.com to apply!