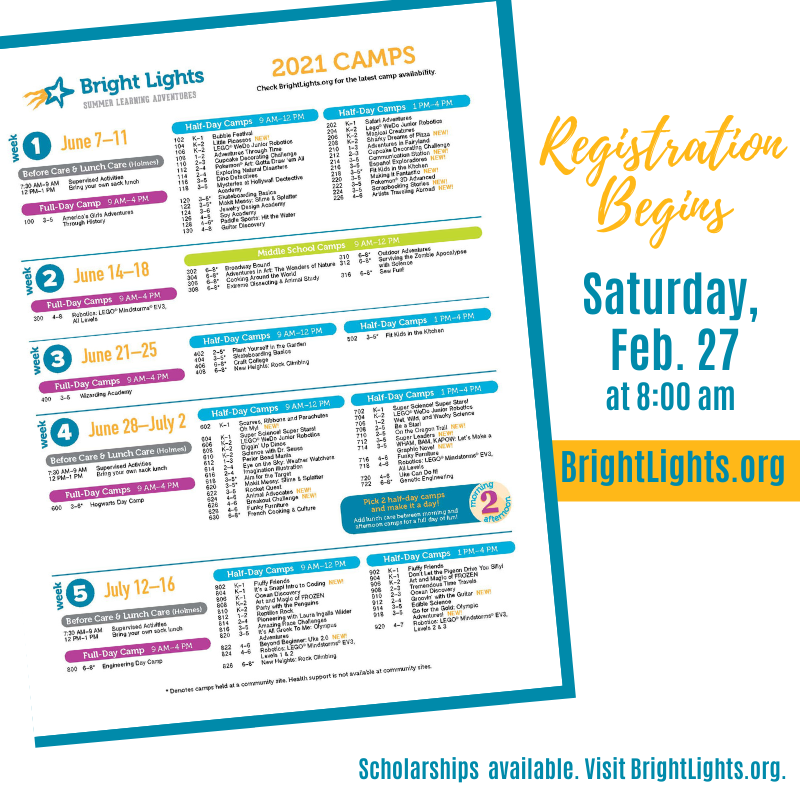 Signs that warmer weather is right around the corner: spring break is only a couple of weeks away, Target is putting patio furniture on display, and - my personal favorite - Bright Lights registration opens this Saturday, February 27 at 8:00 am!   
Already planning on signing up your student and don't need convincing? Fantastic – here's a link so you're ready to go on the 27th when registration opens: https://www.brightlights.org.  
If, however, you've never taken a Bright Lights camp and need convincing, consider this:
Teachers: The majority of our camps are taught by certified teachers, and those that aren't teachers are experts in their field. Our teachers bring subject-matter knowledge and a passion for learning that you can't find anywhere else. That passion is translated to the students, who become excited about lizards and sink/float experiments in a way you never expected. One parent shared this from last year: "My daughter loved her cupcake camp. She came home talking about crumb coats and could frost like a champion! She loved seeing what careers she could do with these skills." 
Experience: This summer marks the 35th summer for Bright Lights. That's a lot of camps and students over the years! We pride ourselves on establishing a safe, friendly and motivating environment that helps students be successful. We basically operate a school for five weeks out of the summer, and we learn something new every year. "Every staff member we came into contact with was over the top helpful and friendly. Great, great experience!" That's exactly how we want parents and students to feel every year! 
Variety: With 90+ camps, I challenge you to find a student who can't find something to be excited about in our schedule! These can be found on our website by the week that the camp takes place, or the grade that your student it currently in. We have camps about animals, science, food, sports, music, the environment, wonderful story books and practical skills (like fishing and sewing)! We are constantly refining and developing our curriculum to be fresh, fun and challenging.
Once you've viewed the camps being offered and made a list of favorites, you are ready for registration day! For even more help, we also have step-by-step instructions for our registration system.
We look forward to seeing your student at camp this summer!