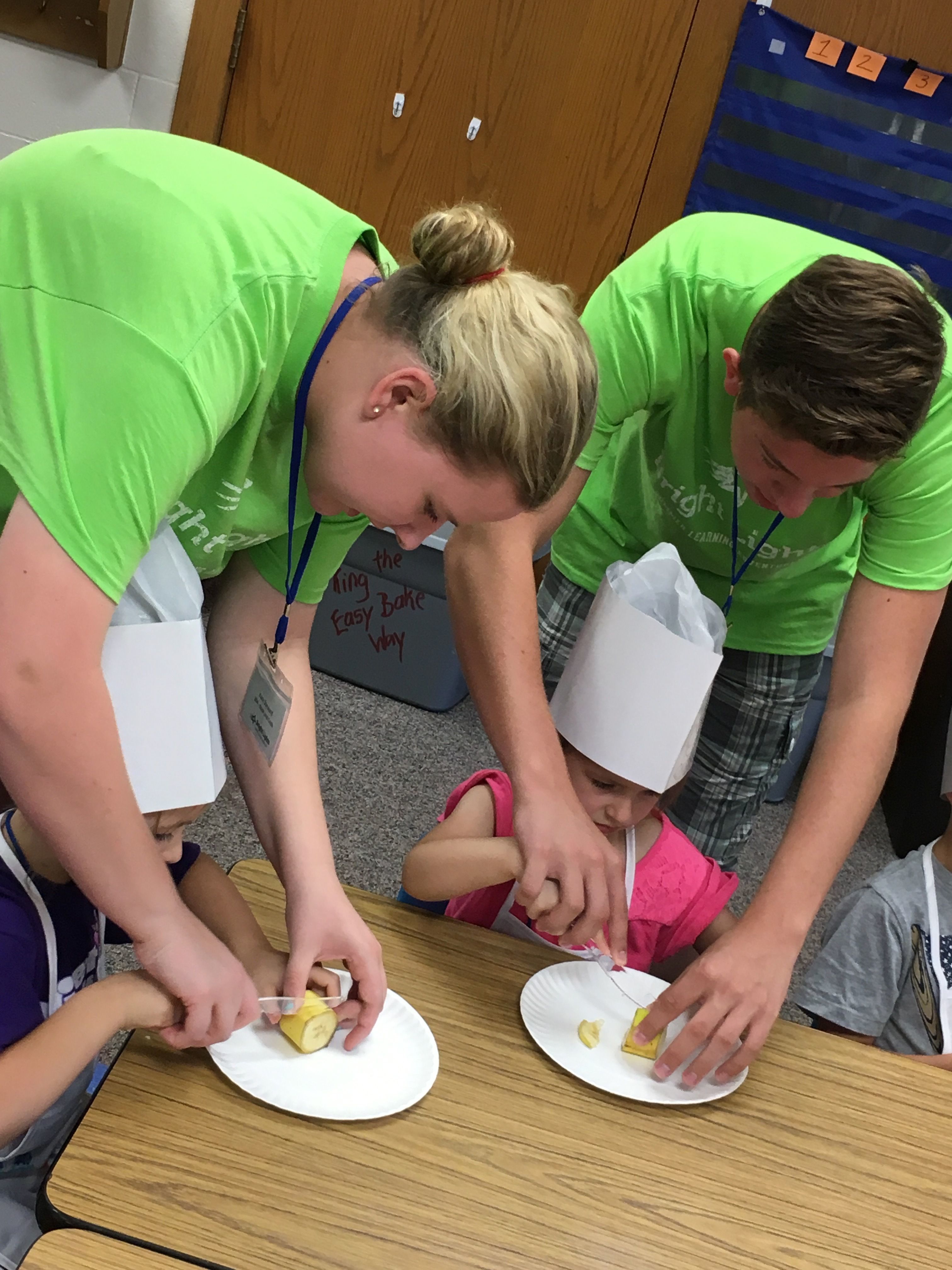 Camp Assistants are like the toppings on an ice cream sundae. They add something extra special to the Bright Lights experience for our campers. And they get something in return, too! 
These 8th grade and up volunteers earn service hours, gain experience that will help them build their resume or get their first job, and reap the rewards of working with elementary and middle school-age campers.
If you are a former Bright Lights camper, you have an opportunity to give back and become the Camp Assistant that you once looked up to. It's also a great way to explore a career as an educator. Some of our former Camp Assistants have even gone on to become Bright Lights teachers!
Both half-day and full-day Camp Assistant volunteer spots are available, with the most opportunities the weeks of June 7, June 28 and July 12.  See our Summer 2021 Camp Schedule for a complete listing of our five weeks of programming and the list of registration tips we have put together below.  
After being assigned to a camp, all Camp Assistants will be invited to an orientation to acclimate them to the position's responsibilities. Camp Assistant candidates are expected to have consistent attendance, be able to assist in a supervisory role, relate well to children and respond well to adult direction. Additional resources, like the Camp Assistant Manual and list of Day-to-Day Responsibilities, are available for you to reference. 
 If you know someone who would be a good fit for Camp Assistant, please share this blog post with them! Registration begins March 2 at www.brightlights.org/assistants. 
As you look ahead to summer, I hope you will consider how you (or someone you know) could be the special topping on a Bright Lights camper's experience.
Camp Assistant Registration Tips
- Check your summer schedule and pinpoint the week(s) you can volunteer. Be sure to take into account family vacations, other camps you are attending and work schedules. 
- Browse the Summer 2021 Camp Schedule in advance to locate camps of interest that you can list on your application. (Choose camps with students at least two grades younger than yourself.) 
- Contact two references and ask for their e-mail address and phone number, as you will need to provide this information on your Camp Assistant application. 
- Provide a personal email address that you or a parent checks frequently (not a Lincoln Public Schools address). 
- Be prepared to list your T-shirt size (S, M, L, etc.). 
- Be specific about your skills, interests and the grades you prefer to work with. 
- Consider if you are interested in helping with Before Care or Lunch Care as an extra assignment. 
- Apply early for the best chance at getting placed in the camps/sessions you request. Registration begins March 2 at www.brightlights.org/assistants. 
- Watch for an immediate email confirming your registration, and save it.