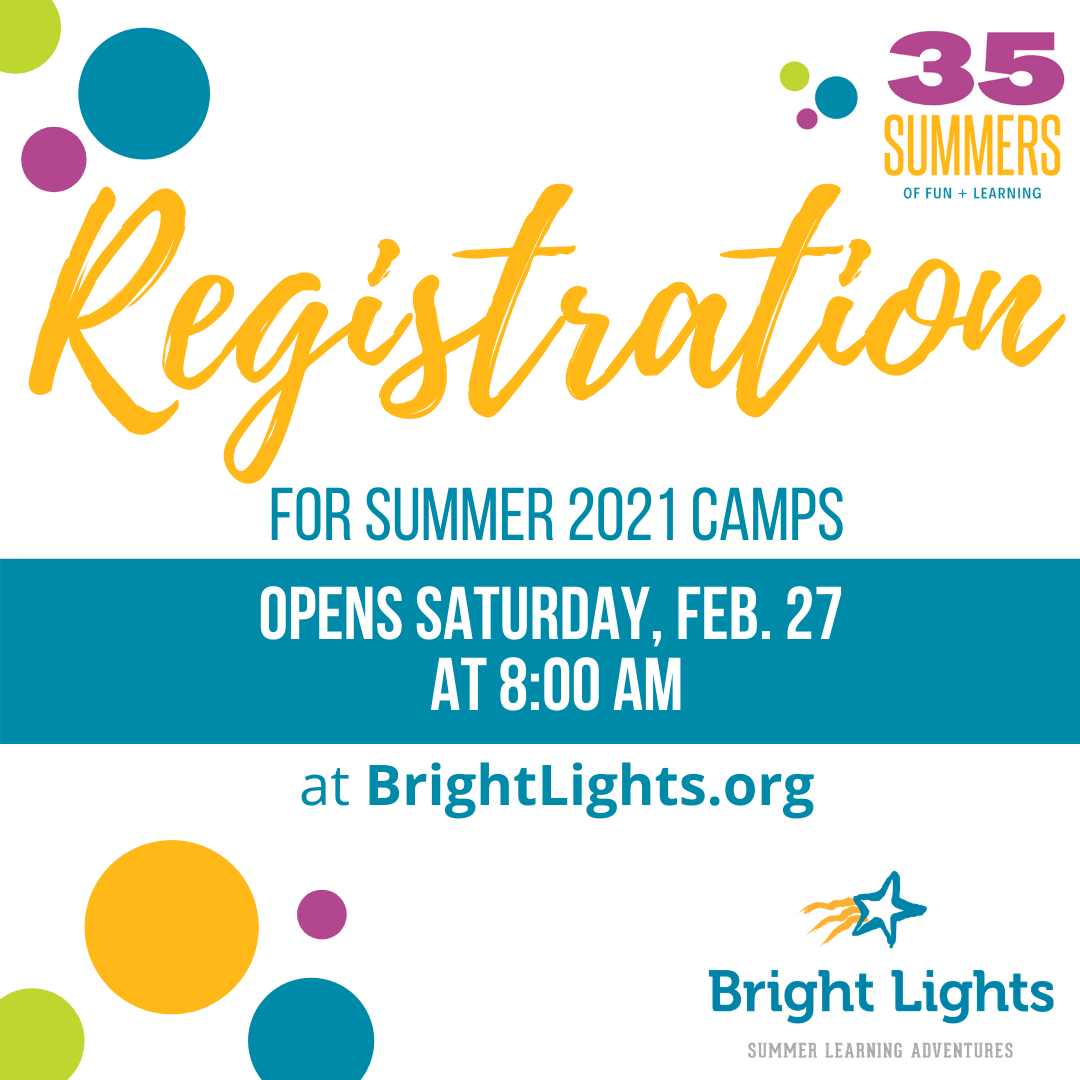 Registration for Bright Lights summer camps opens on Saturday, February 27 at 8:00 am. Are you ready? No worries, we've got a few tips to share to make sure you're prepared to make the most of your summer! 
Before you register, here are a few things to think through and have ready to go: 
A list of the specific camps that your student(s) want to take. These can be found

on our website

 organized by the week that the camp takes place or the grade that your student is in currently.   

Check your grades! Bright Lights camps are offered for students who have completed Kindergarten through 8th grade. Be sure you enroll for a camp by the student's current grade as of February 27, 2021.  

Register all your students at once. Once you are in our registration system, you will want to select  all  of the camps for  all  of the students that you are registering at the same time. Doing this will put your selections in your cart and save them there as you check out.  

An electronic form of payment. The program fee for a week-long half-day camp is $135 and a full-day camp is $280. (Additional fees may apply to some camps.) Full payment and any additional program fees are due at the time of registration, unless applying for a Bright Lights scholarship. 

Scholarships are available. If you are interested in applying for a scholarship, you will do so during the registration process. The fee to apply for a scholarship is $10.  

Registration account password. Please note that you do not need an account beforehand to register. Your account will be created at the end of the registration process.  However, if you have registered for Bright Lights camps in the last few years, you will already have an account with Active Network (our registration system) and you will log into that during registration using your established password.  

If you have forgotten your password for your account or if you need to change the email address associated with it, you can go to  Active.com, sign in, and update that information at any time. You can even do this before our registration opens, but you will NOT be able to select classes yet.  

If you have registered for something else that also uses Active Network—such as a race or an activity through another company—you may already have an account.  
For those who would like them, we also have step-by-step  instructions for our registration system available on our website. 
Once registration opens, you can click on the orange "Register" button at BrightLights.org to get started. If it's 8:00 am or after on February 27 and you're not seeing that button, please check your internet connection and then refresh your web browser and clear your cache.  
If you should have any trouble once you go on to register, or if you have further questions about registration, please visit our website or our FAQ page. You can also contact me—Kristi Whitmer, Registration Specialist—at 402-420-1115 ext. 45 or via email at registrations@brightlights.org. 
We look forward to seeing your student at camp this summer!