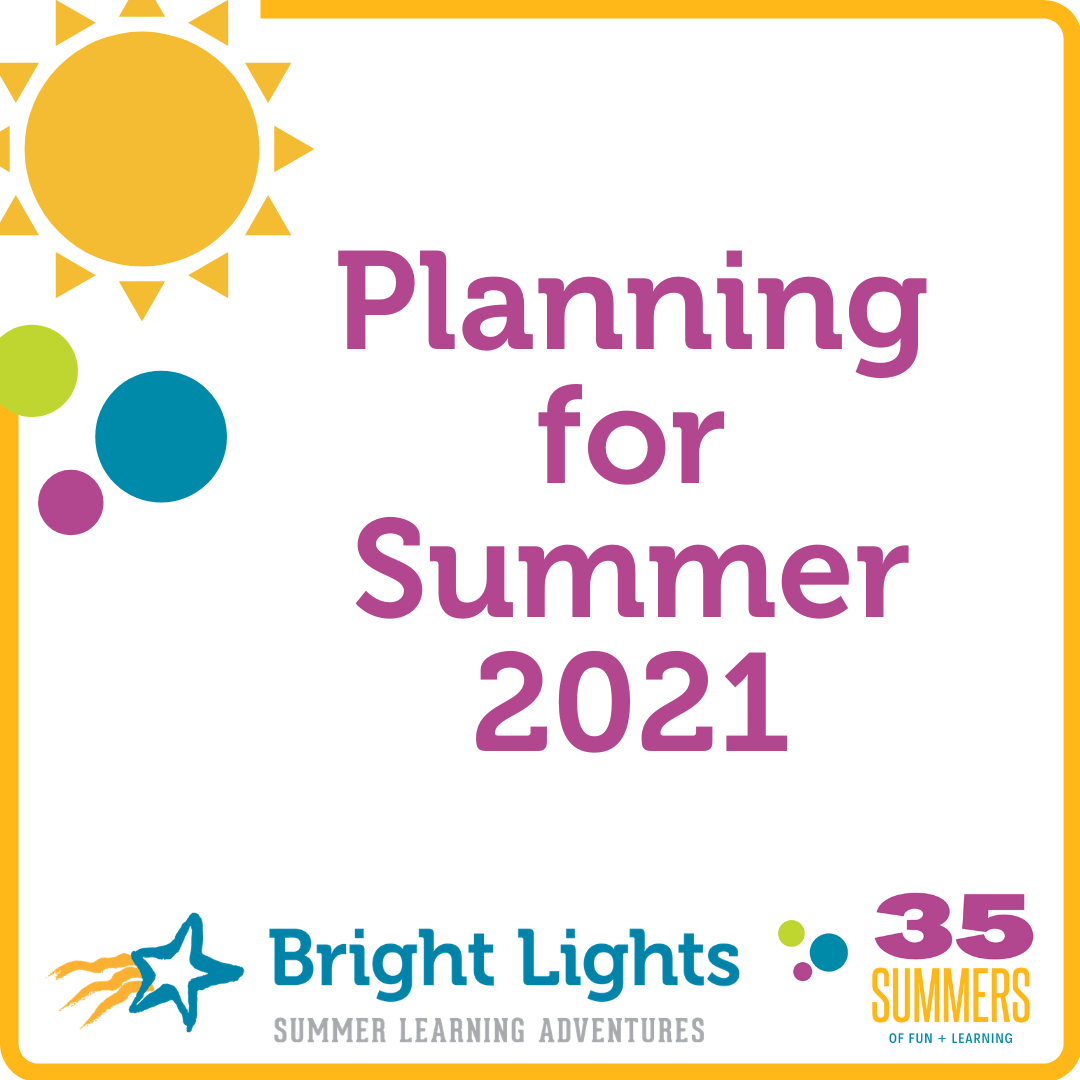 Anyone else thinking summer looks good about now? We think so, too! 
As we prepare for Bright Lights registration to open February 27, we have received questions about how camp will work for 2021. Here are our "right now" answers, understanding that we will adapt as needed with the primary focus being the health, safety and well-being of our students, families and staff. 
Will Bright Lights camps be in-person for Summer 2021? 
Yes, we are planning on in-person camps! And our plans are for only in-person camps, not a hybrid of some in-person and some remote campers. 

Our main location will be Holmes Elementary, with camps also being held at Lux Middle School and other community locations.  

We have many contingency and health/safety plans drafted. Once we are closer to our first camp date we will be able to finalize those plans with the health department, based on the current health directives, and communicate those plans with families. 
How will camps be different in Summer 2021? 
There will likely be adaptations made to things like field trips and parent open houses to follow the current health directives for our area. Currently our plans include: 
Everyone will need to wear a mask, except when eating/drinking. 

Everyone will practice social distancing whenever possible. 

Policies will be in place for incidences of symptoms, positive test, etc. and will be shared with parents. 

Everyone will help with sanitizing areas and materials to keep everyone safe. 

If Bright Lights cancels a camp (because of COVID-19 or other reasons), we will refund your registration fee. If a family chooses to cancel their registration (because of COVID-19 or any other reason), our

regular refund policy

 will apply.  
What will be the same this year? 
Bright Lights will offer a

wide variety of fantastic camps

 — nearly 90 camps! — so make plans to get registered early! 

Our campers will have fun and learn!

We will communicate effectively with families to keep them informed, all with the goal of serving the needs of our campers.
We are looking forward to summer—Bright Lights' 35th summer actually! — and we hope you are, too. We can't wait to see you all in person!