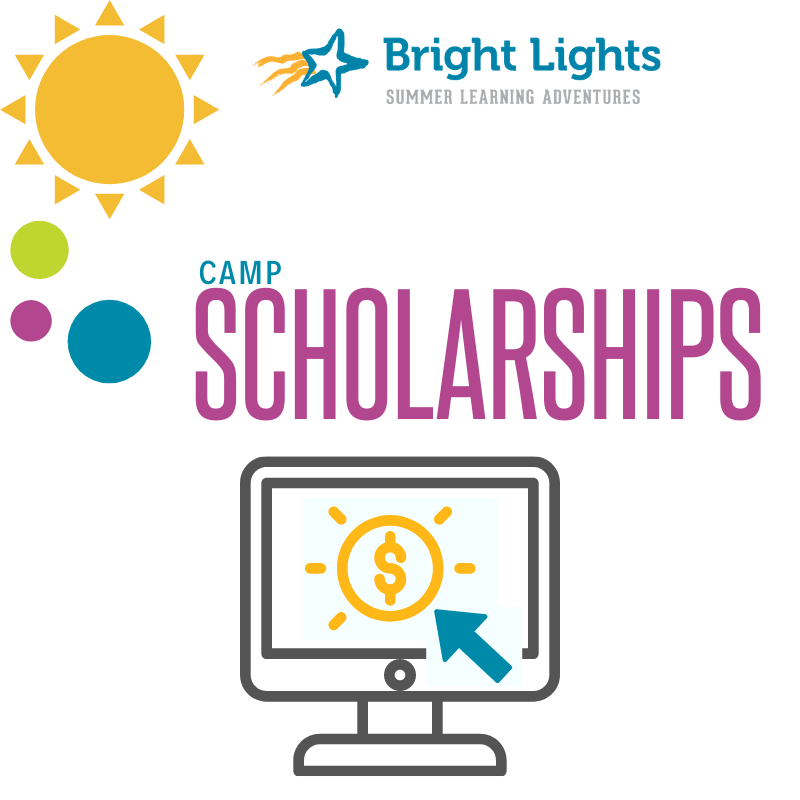 Plans for camps this summer are under way here at Bright Lights! As in past years, we will have camp scholarships available, made possible through generous donations from community organizations and individuals.  
We hated not seeing you in person last summer. But the good news is that since we couldn't award scholarships last year, we get to award even more of them this year! 
So how does the program work? 
· Starting Saturday, February 27 at 8:00 AM, scholarship applications may be submitted at BrightLights.org during the registration process. 
· Simply choose the open (not waitlisted), grade appropriate camp your student wants to take, answer 'yes' when asked if you wish to apply for a scholarship and then complete the required information. 
· All applicants will pay $10 at registration to hold their space in the camp while their application is reviewed. 
· Bright Lights will review the applications and award scholarships based on financial need until available funds are depleted.  
· All applicants will be notified of the amount of their scholarship by April 15. At that time, any tuition not covered by the scholarship will need to be paid. 
· Each student is eligible for ONE partial scholarship up to $125 that can be used toward either a half-day or a full-day camp during Summer 2021. 
· Applications must be submitted by April 1st. 
Further details about our summer camps can be found at https://www.brightlights.org/programs/. Information about our scholarship program can be found at https://www.brightlights.org/programs/resources/scholarships.html.  
And if you would like to donate to our scholarship fund, please visit https://www.brightlights.org/support.