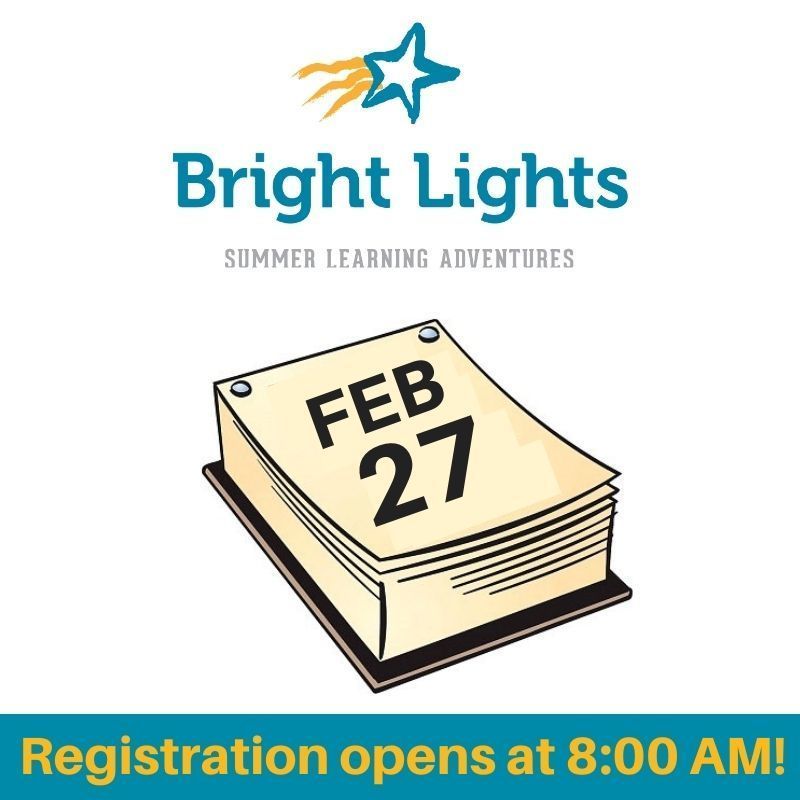 We are excited to announce that Bright Lights will be moving our registration date up for Summer 2021! 
Registration for Summer 2021 camps will open on Saturday, February 27, at 8:00 am at BrightLights.org-- three weeks earlier than in past years! 
Why are we moving it? "Families have had many obstacles to overcome in the past year. We hope that an earlier registration date will give parents more time to plan out the best summer activities for their kids," said Lori Paulsen, Executive Director of Bright Lights. 
Our five camp weeks for Summer 2021 are: 
Week 1: June 7-11 
Week 2: June 14-18 (International Week at Lux Middle School) 
Week 3: June 21-25 
Week 4: June 28-July 2 
Week 5: July 12-16
​​The Bright Lights camp schedule—listing out the specific half-day and full-day camps that will be offered to K-8th grade students during each of our camp weeks—will be available at BrightLights.org by mid-February 2021.    
Summer 2021 marks our 35th Summer of offering hands-on learning experiences to students, and we look forward to seeing everyone there in-person!  
For more information on our program—including how older students can volunteer in our Camp Assistant program—please visit BrightLights.org.