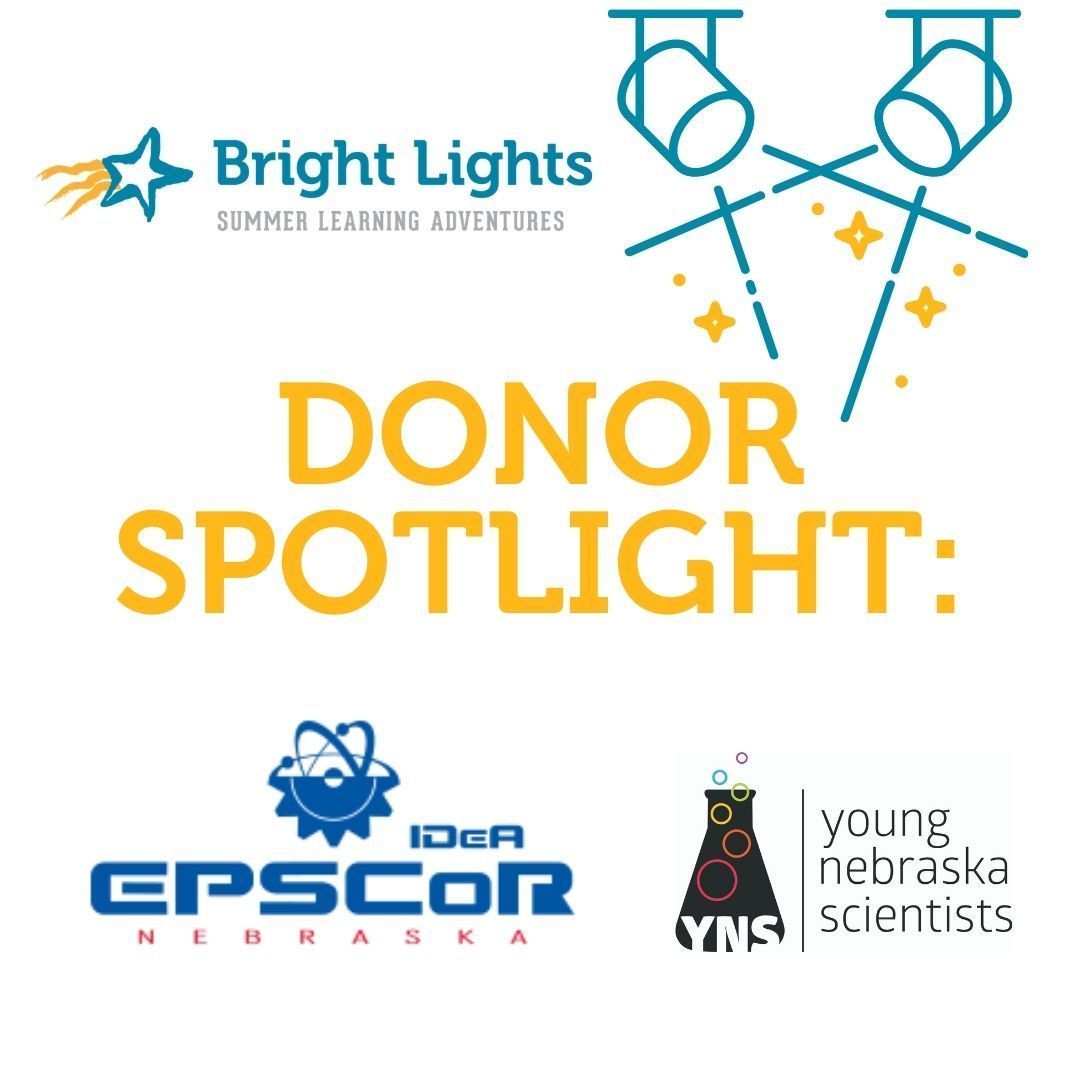 Nebraska EPSCoR has been sponsoring Bright Lights scholarships for over 16 years! We are so thankful for their continued sponsorship, so I asked their Outreach Coordinator, Nicole Busboom, to tell us a little more about why they have been such a loyal supporter to Bright Lights. 
When did you get involved with Bright Lights? 
Nebraska EPSCoR has supported Bright Lights ever since we realized our goals and outcomes are so well-aligned in helping young Nebraskans access STEM (Science, Technology, Engineering and Math) learning. 
What attracted you to our mission of providing unique, hands-on learning experiences? 
Nebraska EPSCoR values that Bright Lights offers a range of active opportunities, including many STEM learning sessions for pre-teen children. It is also important that our funding from the National Science Foundation helps underserved youth, and funding Bright Lights scholarships is an effective way for us to help engage more young people in this way. 
What do you hope Bright Lights will achieve in the near future? In the long term? 
We hope Bright Lights will "keep up the good work" -- especially by continuing to provide STEM exposure and encouragement to more pre-teen students in Nebraska. We love that many Bright Lights "alums" advance to join our Young Nebraska Scientists (yns.nebraska.edu) summer programs, including camps for middle school and high school students at colleges and universities throughout the state. 

Nebraska EPSCoR is a collaboration of education, government and industry that pursues STEM projects to enhance our state through transformative research and workforce development. We pursue funding primarily through the National Science Foundation's Established Program to Stimulate Competitive Research, and focus mainly on five-year endeavors that gather talented, motivated scientists from varied backgrounds and institutions across the state--most recent is our Center for Root and Rhizobiome Innovation (crri.unl.edu). Part of NSF's expectation is that we ensure opportunities for young people to access STEM experiences, to help foster future growth and development. 
Thank you, EPSCoR, for your continued support of Bright Lights!