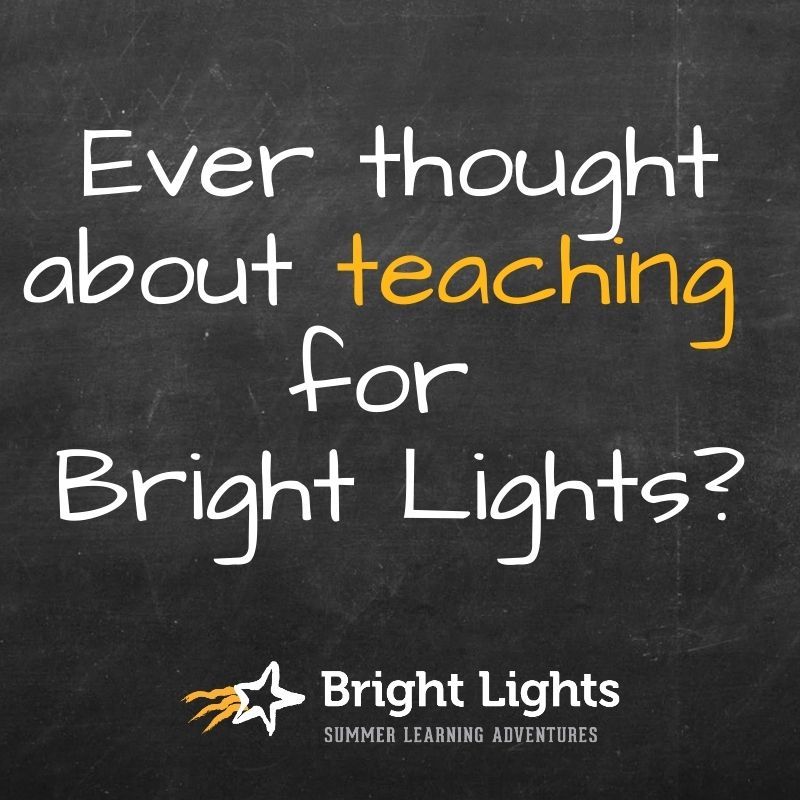 McDonald's Big Mac is easily recognizable because of its Secret Sauce, arguably the main element that makes it stand out from other burgers. For Bright Lights, our Secret Sauce is our teachers. Every summer they bring topics to life for our students by channeling their knowledge and passion into half-day or full-day experiences. 
It is now time to recruit teachers who are interested in adding new ideas and curriculum to our summer schedule. So, what's involved in being a Bright Lights teacher?
First, you don't have to be a certified teacher. We have many instructors who are members of the community that have a skill to share, or are retired professionals looking to inspire the next generation. As a teacher, you commit to creating high-interest, hands-on curriculum (with our help, if you need it) that is suitable for a grade range (again, determined by your interests and preference) beginning at Kindergarten through 8th grade. You attend a training meeting in April and teach for a week in June or July. You can request which week you teach based on your schedule, choosing a half-day morning (9:00 am-12:00 noon) or afternoon (1:00-4:00 pm) camp. You can even co-teach with a friend! 
The benefits? You're paid well for your time, you teach something you enjoy and you are surrounded by students engaged in the topic.  
Are you interested in adding this experience to your summer? Online registration will open October 5, so send an email to me-- Renee Ford, Education Coordinator-- at teacherrecuit@brightlights.org to request the link and ask any questions you might have.