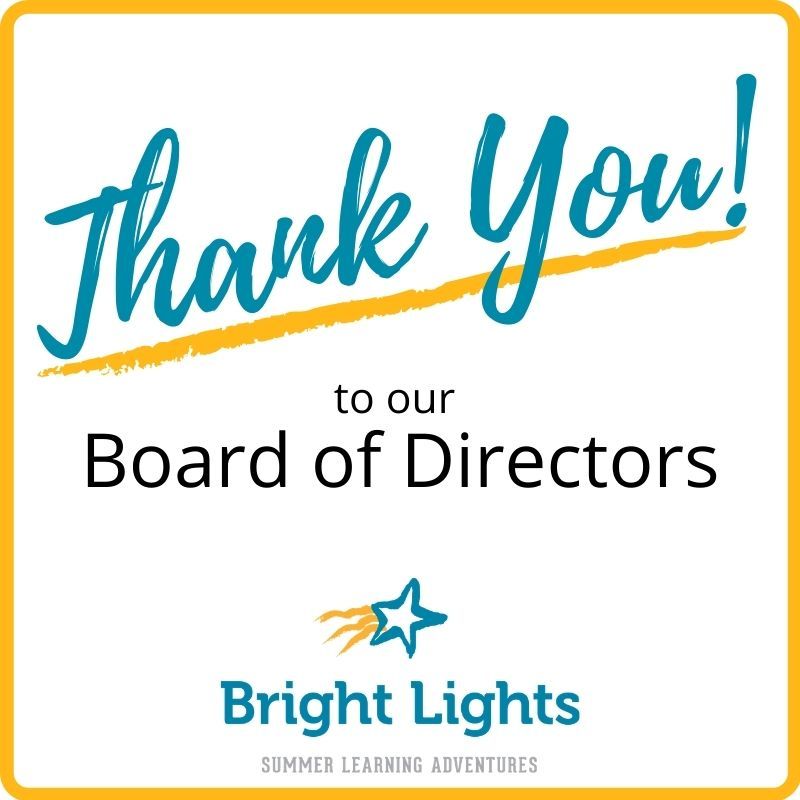 When I joined Bright Lights last October as executive director, I was thrilled to find an engaged and diverse group of board members committed and passionate about Bright Lights. In January of 2019, the board gathered for the arduous task of strategic planning. They made solid decisions about our future. Then, when the pandemic came, they had to make difficult decisions about Summer 2020. The entire board should feel proud about not just surviving but thriving through challenges.  
Yesterday the board met for the first time for our fiscal year 2021. Our new board president, Nick Stremlau, led the meeting and kicked off the new year! We said a heartfelt thank you to Jen Ackerman, outgoing president, who led us to a new executive director and through a pandemic! We said thank you and farewell to outgoing board members Tina Reeves, Stephanie Rodriguez, Bob Reeker and Jeff Rust. Their dedication over the years was phenomenal and we're grateful that they chose to share their gifts with Bright Lights. We also welcome our new president-elect Betsy Tonniges and our new secretary Denine Erlemeier. And finally, we're so pleased to announce four new board members: Mark Harris, Rachel Barth, Kimberly Bilder and Jay Lechner.    
As we look forward to the Summer 2021, we are excited to be celebrating our 35th summer. This is a notable milestone especially considering the past year. We are looking forward, planning for in-person camps with tried and true favorite camps as well as some exciting new offerings (along with the now-normal back up plans)! In addition... 
Our efforts to build relationships with organizations sharing similar goals to ours continues. 

Our fundraising plans are revamped, re-energized and reimagined. 

Our marketing is focused on reaching new families while embracing those who have supported and enjoyed Bright Lights for many years.  
None of these plans would be possible without the leadership of the Bright Lights Board of Directors. They are the people who challenge the staff to always strive to be better, all the while building on a program that has been perfected through the years. Bright Lights is often used as a template for other organizations as they create camps and it's gratifying to be the kind of organization that is emulated. There is certainly a reason we have continued to serve the community for so many years—it's our dedicated people. A sincere thank you to our board members, we truly appreciate your efforts!