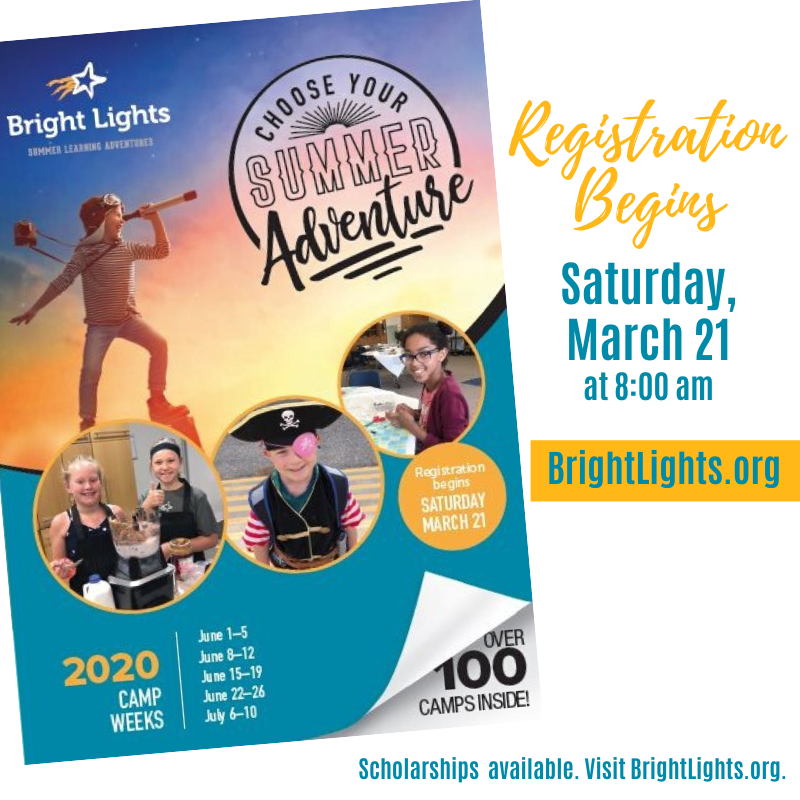 Bright Lights registration time is almost here! We've been planning all year for students to register for our amazing Summer 2020 camps. And while we didn't plan on the world having to deal with Coronavirus, it's not changing any of our summer plans at this time. Registration for our 100+ summer camps will still begin this Saturday, March 21st at 8:00 AM at BrightLights.org! Boy, are we looking forward to summer now more than ever. 
Use your indoor time today to check out all the fun camps we'll be offering this summer for kindergarten through 8th grade students! If you received one of our printed brochures in the mail, great; if not, don't worry, you can see all of the camps we're offering right on our website in various formats. 
Once you've picked out the camps your student(s) want to attend, it's time to get ready to register at BrightLights.org starting at 8:00 AM this Saturday, March 21st.   
Here is a helpful list of what you will need before you sit down to register:  
The names/numbers of the camps that your student(s) want to take. As mentioned before, these can be found in our printed brochure or on our

website

.


 

Remember: For camps taking place at Holmes Elementary during weeks 1, 4 and 5, you can pick a half-day morning camp +

Lunch Care

 

+ a half-day afternoon camp to make it a full day of fun! You can even add on

Before Care

 

if you need the day to start a bit earlier. Simply select the Lunch Care and Before Care options during registration to add them on.


 

Your student's grade as of March 21, 2020. Bright Lights camps are offered for students who have completed kindergarten through 8th grade. Enroll by the student's current grade as of March 21, 2020. 


 
An electronic form of payment. The program fee for a half-day camp is $135 and a full-day camp is $280 for the week. (Additional fees may apply to some camps.) Full payment of all program fees is due at the time of registration, unless applying for a Bright Lights scholarship. A valid credit card—Visa, Master Card, Discover or American Express – or an electronic check (eCheck) may be used. TIP: If you choose eCheck, Bright Lights incurs lower fees! Participation in our Voluntary Price Options is appreciated as well.  
 

If you are interested in applying for a

scholarship

, you will do so during the registration process. The deposit required when applying for a scholarship is $10.   
Please note that you will not need an account beforehand to register. Your account will be created at the end of the registration process. If you signed up for Bright Lights camps last year, you will already have an account with Active Network (our registration system) and you will log into that during registration. If you have registered for something else that also uses Active Network—such as a race or a class through another company—you may already have an account. If you have forgotten your password for your account or if you need to change the email address associated with it, you can go to Active.com, sign in and update that information at any time. You can even do this before our registration opens, but you will NOT be able to select/register for any Bright Lights camps yet. 
For those who would like them, we also have step-by-step instructions for our registration system available.  
Everything you need to know about the program and registration can be found on our website. You can also contact us by phone at 402-420-1115, extension 45. However, we are currently working remotely, so please leave a message and we will get back to you as soon as possible. You may also email info@brightlights.org.
We look forward to seeing your students this summer and sharing our many fun learning experiences with them!