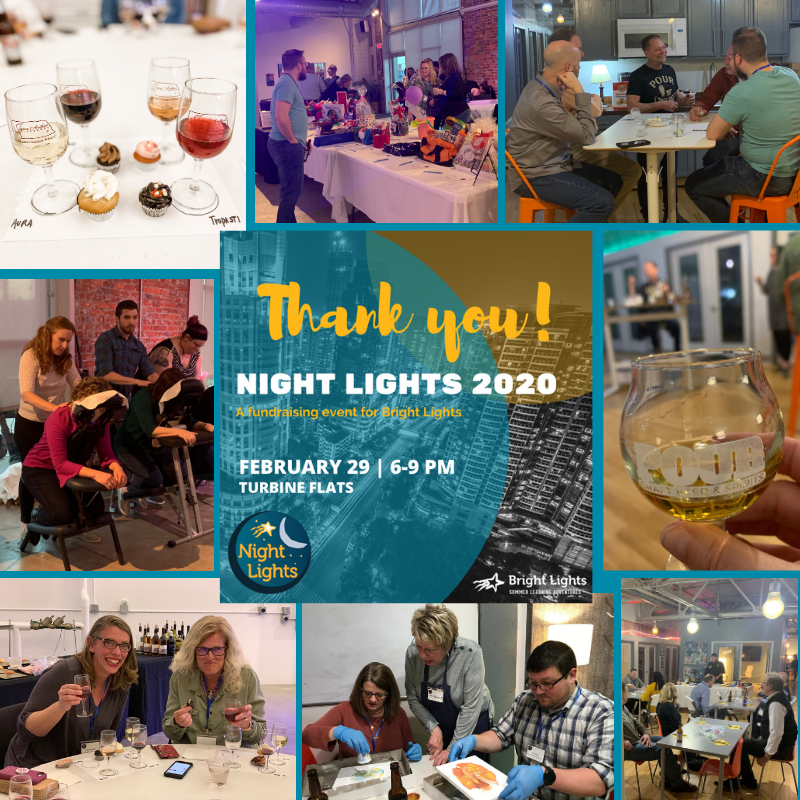 The Bright Lights fundraiser Night Lights was held this past weekend at Turbine Flats. So much fun was had in so little time. What made this event special was the same idea that makes our camps special…passionate teachers providing hands-on learning and a variety of topics! 
None of this would be possible without the financial support of our Night Lights sponsors. We would like to especially thank both Black Hills Energy and ABC Electric for being our presenting sponsors. Their support of not just the event but of the Lincoln community is what makes them so vital to our success. 
We would also like to thank Rabbit Hole Bakery, James Arthur Vineyards, the Nebraska Pork Producers, Pour and Barb Highstreet for teaching the classes. They were truly unique and everyone came away learning something new in a fantastic environment.
Many local businesses contributed to the silent auction which helped to raise funds to support all aspects of Bright Lights. As a non-profit, we rely on the generosity of the Lincoln community. 
We're proud to be a part of the Lincoln community and even more proud of how businesses and organizations come together to support our efforts.