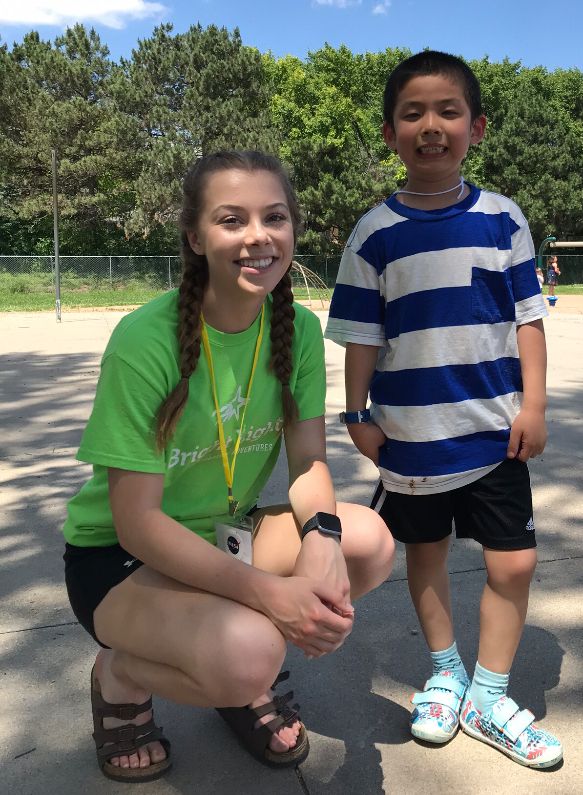 Every year, Bright Lights recruits between 160 and 200 volunteers to join the Camp Assistant ranks and assist teachers in our half-day and full-day camps. We welcome rising high school students who have completed 8th grade, college students and adults to volunteer as Camp Assistants, and they play such a valuable role in our summer program. Their commitment helps support the teachers, ensures student success and provides a rewarding experience that makes a difference in the classroom.
As Camp Assistant Specialist, I strive to assure that Camp Assistants know what to expect from their volunteer experience and what is expected of them. During a 90-minute orientation in May or June and on set-up day (which is the Friday before each camp week begins), Camp Assistants will have opportunities to get acclimated to their role. Additional resources like the Camp Assistant Manual and list of Day-to-Day Responsibilities, are also helpful and can answer many questions applicants may have.
What makes a good Camp Assistant? Candidates should:
Have reliable transportation

Have good attendance for the entire week they are volunteering

Be able to take on a supervisory role vs. a camp participant role

Relate well to children

Respond appropriately to adult direction
Most volunteer positions are in the classroom, but additional Camp Assistant opportunities are available working with the Building Coordinator as an office assistant and providing Before Care (from 7:30-8:45 AM) and Lunch Care (from 12:00-12:45 PM) under a teacher's supervision.
Registration for Summer 2020 Camp Assistants begins Monday, March 2 at BrightLights.org. If you know someone who might be interested in being a Camp Assistant this summer, please share this information with them as well as these Registration Tips:
Confirm the week(s) you are available to volunteer before completing the application. Our program weeks for Summer 2020 are June 1-5, June 8-12, June 15-19, June 22-26 and July 6-10.

Browse the

Bright Lights camp schedule

 

in advance to locate camps of interest. (In most cases, Camp Assistants are assigned to camps with students at least two grades below them).

Contact two references and ask for their e-mail address and phone number, as these are needed for the application.

Provide a personal email address that you or a parent checks frequently (not a Lincoln Public Schools address).

Know your t-shirt size (S, M, L, etc.).

Be specific about your skills, your interests and the grades you prefer to work with.

Consider if you are interested in helping with Before Care or Lunch Care as an extra assignment.

Apply early for the best chance at getting placed in the camps/sessions you request.

Watch for an immediate email confirming your registration, and save it for future reference.
If you have any additional questions about being a Camp Assistant, please give me a call at 402-420-1115 ext. 49 or email me. I'm looking forward to another great summer at Bright Lights!