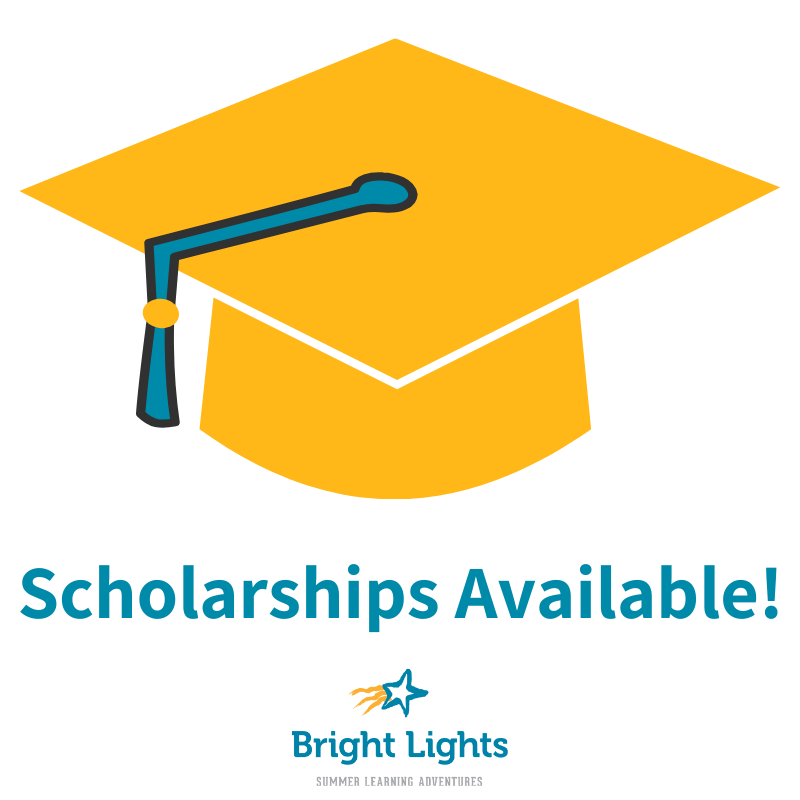 Do you know anyone that has wanted their student(s) to have fun, hands on, STEAM-based experiences during the summer, but didn't think they could afford it? Bright Lights provides need-based scholarships to many of our students.   
Thanks to generous donors throughout the community, we were fortunate to award over 140 scholarships to students last year, which covered $75-$125 of their tuition costs. You or someone you know may be eligible for a scholarship for our 2020 camps, and it's easy to apply! 
Go to our website to see a complete list of what camps are offered. 
 
Browse through the list of camps with your student(s) so that you have a few choices in mind before registration opens on Saturday, March 21st.  
 
When registration opens, visit BrightLights.org and click on the orange "Register" button. The scholarship application will be included in the registration process after you select what camp(s) you want your student(s) to take. Simply complete the necessary information and you're finished! 
A few additional details to note:
Please select a camp with open spots (do not add your student to the waitlist for a camp that is full) in order to ensure that your scholarship application and payment can be processed before the April 15 deadline.
 
Applications must be submitted by April 15 and all applicants will be notified of the amount of their scholarship by May 1. At that time, any tuition or fees not covered by the scholarship will need to be paid. 
 

All applicants will pay $10 during registration to hold their space in the camp (plus any fees associated with the camp) while their application is being reviewed. 


 

Each student is eligible for ONE partial scholarship that can be used toward either one half-day or one full-day camp the summer of 2020. 
More information about the scholarship program can be found on our website!