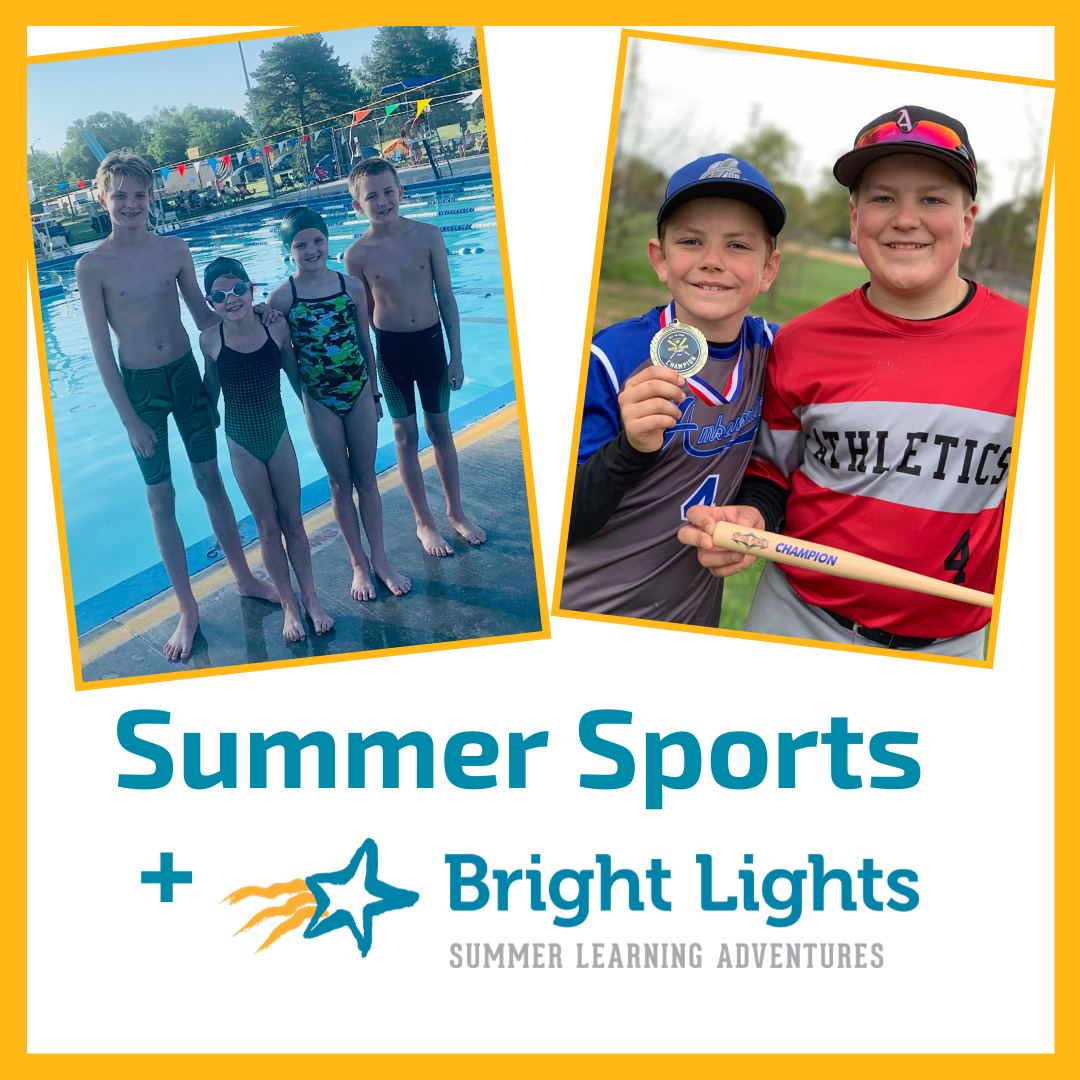 Do you have kids who participate in summer sports? Are you wondering how Bright Lights camps can fit in with their sports schedules? Two Lincoln moms tell us how their families do it.
---
Megan, Swim Mom
All four of our children ages 9-14 swim on a Parks and Rec swim team, our oldest also swims long course with his club team, and our youngest is a diver. Needless to say, we can spend upwards of 5 hours a day at one pool or another in Lincoln! With the wide variety of camps that Bright Lights offers, my children can explore all of their interests during any given week and have plenty of camp options.
Because we swim in the mornings, our kids will choose from the afternoon half-day camps and my oldest will be able to be a Camp Assistant with one of his favorite teachers at a time that works with his swim schedule. Bright Lights camps are fun and exciting, so my children don't feel like they're working or learning—and they are enthusiastic to go and be a part of the fun, so driving to and from their summer activities doesn't feel like a chore. We enjoy our conversations in the car and delight in hearing about everyone's day at the pool and at camp. Our summer evenings are filled with plenty of books, video games and lazy evenings watching the kids chase the fireflies. Time slows down, just a little, and we can relish the remaining summers we have with these four energetic but awesome kids.
---
Lindsey, Baseball Mom
Our 9- and 13-year-old boys love to play baseball in the summer, and we love to watch them! But we need (and want) more to fill their summer days than just baseball, and Bright Lights fits in perfectly.
With our practices and games in the afternoon/evening, taking a Bright Lights half-day camp in the morning is the perfect way to kick off our days. The boys make new friends and learn more about a topic they choose, which makes it really fun for them. (It also allows them to spend some time apart, which always makes the time they spend together better, too!) They have taken camps on topics ranging from rock climbing to reptiles to dissecting and loved them all. After lunch and some at-home downtime, we are ready to head to the ballfield. It's just the perfect way for us to put some fun, some learning and some physical activity into each day.
---
Both of these families use Bright Lights in great ways to explore their students' interests beyond athletics and still have plenty of time to unwind and enjoy summer break.
Interested in seeing the camps we are offering this summer? Check out all 5 weeks of our half-day and full-day camps. Registration begins on Saturday, March 21 at 8:00 AM.