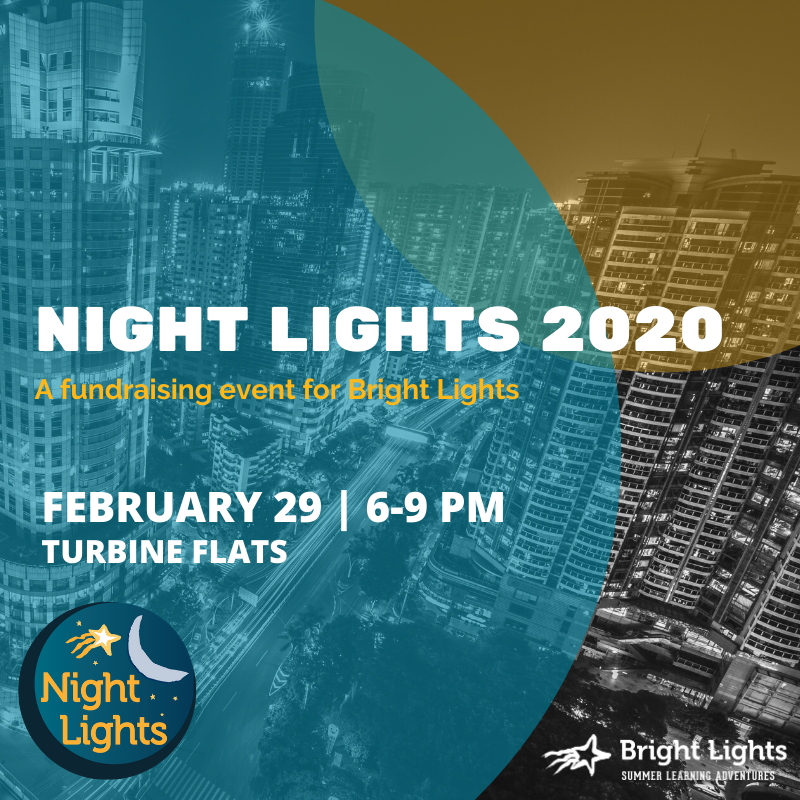 When we talk about Bright Lights with students both present and past, they talk about the specific camps they enjoyed. They loved an activity they got to do or couldn't wait for a specific project or topic.
As we get ready for Night Lights, the Bright Lights fundraising event happening on Saturday, February 29, we certainly get excited about our new location, Turbine Flats, and we like talking about the creative silent auction items as well. But just like our students, Night Lights attendees get excited about the classes offered at the event. 
Here are the four classes you can pick from when you purchase your tickets to Night Lights:
Pour Me: A Whiskey Tasting — The folks from Pour will be sharing some history of whiskey as well as information on how it's made. You'll taste different whiskeys as well as trying them with different waters to experience how they change the flavor. 
Ice, Ice, Baby: Cupcake Decorating with Dessert Wine Pairings — What could be better than desserts and wine…plus a little creative decorating! Learn how to ice delicious cupcakes from Rabbit Hole Bakery while enjoying perfectly paired dessert wines from James Arthur Vineyards.
Abstract Artist: Acrylic Painting — Come prepared for a bit of mess while you create a unique and simple painting with local artist Barb Highstreet. You'll leave with your own masterpiece!

This Little Piggy Went to Billy's: Cooking with Nebraska Pork — Chef Nader from Billy's Restaurant will share tips, tricks and recipes to creating fantastic meals with Nebraska pork! You'll enjoy samples and a few surprises. 
Sure, you can enjoy "Study Hall" but why not take this opportunity to try or enjoy something new and different? There is something for everyone with this year's Night Lights class options! Visit brightlights.org to learn more and purchase your tickets.  Tickets are $50 each and include heavy appetizers, desserts and choice of one class. Cash bar available. And don't delay as space in each class is limited!