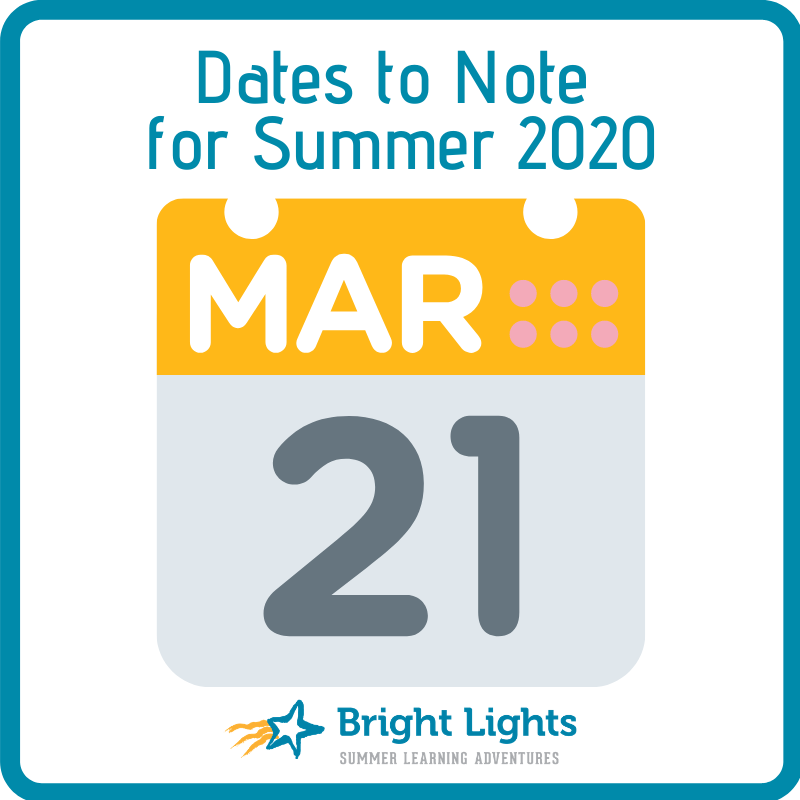 As you flip the calendar over to the New Year, it's time to plug in all those important dates! Here's a few we recommend noting:
Feb. 29, 6-9 pm—Night Lights
Night Lights is a fundraising event for Bright Lights that gives adults an evening to "be a kid again!" with fun, hands-on experiences like students enjoy each summer at Bright Lights.
March 2—Camp Assistant Registration Opens
Bright Lights Camp Assistant positions are open to rising high school students who have completed 8th grade or higher by June 1, 2020, college students and adults. These volunteers play a valuable role in our summer program. They:
Learn about behind-the-scenes classroom preparation and planning.

Develop skills in classroom management and organization.

Expand their proficiency in developing positive relationships with both children and adults.

Enjoy exciting and fun experiences with other assistants.
Camp Assistant information and registration
March 21, 8 am—Student Registration Opens
Registration for Bright Lights Summer 2020 half-day and full-day camps opens at BrightLights.org on Saturday, March 21 at 8 am. You can view the schedule of our Summer 2020 camps at BrightLights.org starting in mid-February.
Program information and schedule
April 15—Scholarship Applications Deadline
Through the generous donations of committed community organizations and individuals, Bright Lights Summer Learning camps are available to all students, regardless of financial status. Applications are taken during the online registration process.
Summer 2020 Program Weeks
And make note of our Summer 2020 program weeks:
June 1-5 (Week 1)

June 8-12—Program Week 2

June 15-19—Program Week 3

June 22-26—Program Week 4

July 6-10—Program Week 5
Bright Lights main program site for Summer 2020 will be Holmes Elementary School (5230 Sumner Street), with some camps taking place at other community sites.
Be sure to follow Bright Lights on Facebook, Twitter and Instagram to get the latest information, including when the camp schedule is released, insight on new camps and more!