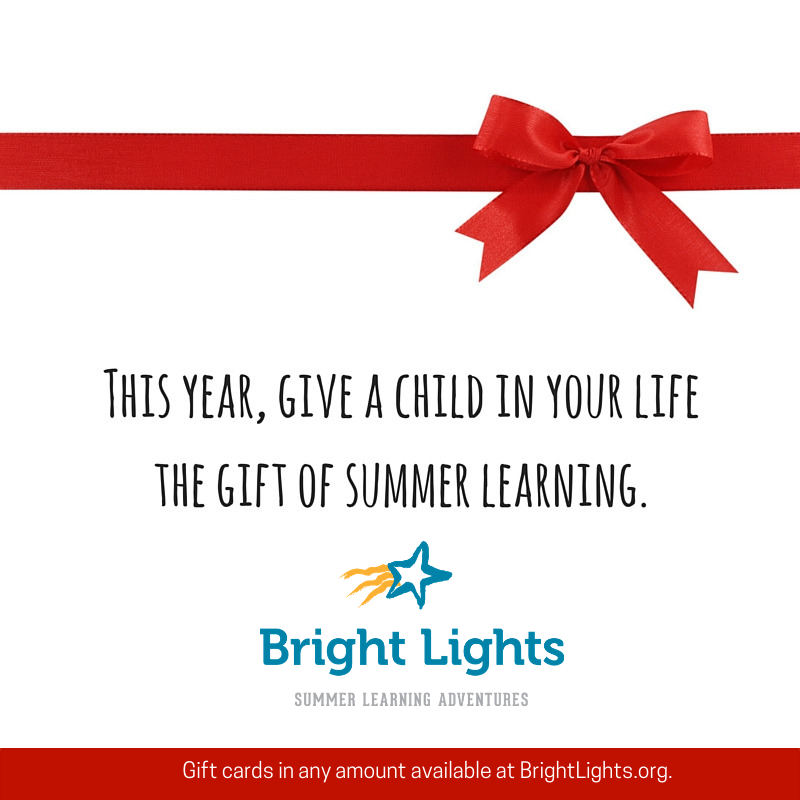 "What do you want for Christmas?"
With two young boys, the question has already been asked in my house. And when you think holiday gifts for kids, you tend to think about toys and books, right? Both are great, of course. But what about giving them an experience instead? "Experiential gifts" are all the rage right now, and for good reason. They don't sit on the toy shelf unused, kids don't outgrow it and it doesn't matter if they have two of them!
What is an experiential gift? It's anything you can go do and is really only limited by your imagination!
Tickets to see a movie, a play or a sporting event (maybe you even go with them and make an adventure out of it)

Piano lessons (or golf, dance, etc.)

An overnight stay at a hotel with a pool

A membership to a museum or zoo

A Bright Lights class
Did you catch that last one? That's my favorite. Yes, you can gift a class—either paying for the whole thing or a portion of it—to anyone currently in Kindergarten-8th grade.
Parents can gift a half-day class or full-day camp to their own child—maybe they have never gone before but you think they would like it, or maybe they want to take two classes or a full-day camp this year.
Grandparents can gift a class to their grandkids. You can even invite them to come stay with you for the week, attend a half-day Bright Lights class and then you'll have the rest of the day to spend together (or with their cousins if multiple grandkids come!). This is something my parents have done with my boys since they were little and it's a really special time for them. Having the half-day class gives some structure to their week together but leaves them plenty of free time for other activities, too. And the memories they have created at the classes and with their grandparents is priceless!
Give a gift certificate in any amount towards tuition to a friend/neighbor. So thoughtful and so useful. Your child and the friend/neighbor could even choose a class to take together!
Giving kids experiences is so rewarding. It shapes them as people, lets them try something new and allows them to learn about and explore the world around them. So when gifting this year, think outside the toy box. I think you'll both have a great experience.