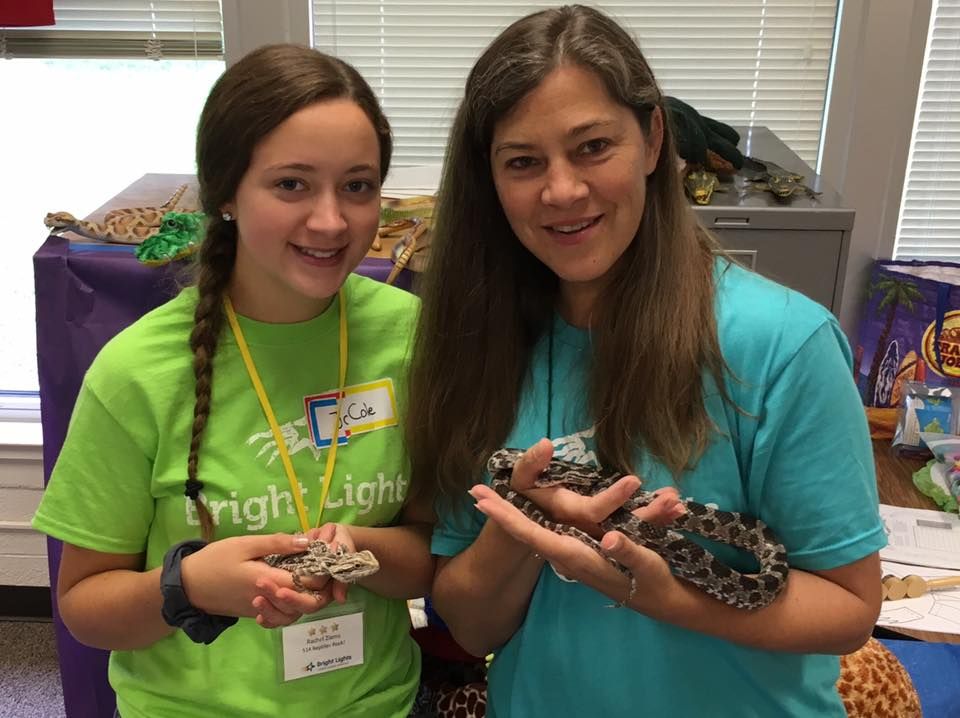 My name is Sheila Ziems and I've been teaching classes for Bright Lights for 15 plus years. I'm an elementary teacher at Trinity Lutheran School and have LOVED being part of the Bright Lights program. It's always a highlight of my summer, especially these past 7 years when my children were old enough to be assistants in my classrooms!
I wrote my first curriculum at my son's request (he was in kindergarten at the time) and developed Mindbuggling Insects. I have such a blast with the youngest Bright Lights students digging into the incredible world of insects. Their excitement is contagious! We learn about butterflies, ants, beetles, mantids, crickets and many more. We learn buggie riddles, view ant farms and our own insects which we get to take home. We have a wonderful visitor from UNL who leads us through a fascinating exploration of ticks and other lesser-known insects. She brings nets and bug jars and we spend time outside observing and learning hands-on. We make a bean bug to play a toss game with it, eat special buggie snacks and make our own buggie soaps to take home. Our week ends with our parent show when we sing a song we made up as a class, recite a group poem, show the insect that each student created and eat some cricket cookies (optional!).  
My son and I loved that experience so much that I asked him for another topic, and the wonderful Reptiles ROCK class was born from that request. This class is so much fun, as I get to share the love of these amazing creatures with 1st and 2nd graders. We learn about a different reptile group each day and have frequent visitors to handle. In the past we've touched or held blue-tongued skinks, geckos, bearded dragons, snakes, turtles and even a baby alligator (handling the animals is always optional). We watch our corn snake capture a mouse and see its amazing jaw open to eat it. We decorate a t-shirt reptile style to wear for our parent party. We eat like a lizard (no hands, mom!) and write about what we'd do if we had gecko gloves. We play reptile games, earn stickers for bringing in reptile show-and-tell, and get blown away by amazing fun facts that are sometimes too wild to be true.
I am so grateful for the opportunity to spend time in such an organized, supportive and enriching program as Bright Lights. As a teacher, I know that SO MUCH LEARNING is lost over the summer when students do not engage their minds in creative play and learning. Bright Lights is a wonderful answer to that challenge, as it is hands-on and full of fast-paced fun. Students don't even realize that they are learning! Bright Lights teachers have inspired many students these past years and the students have, in turn, touched our lives and hearts as well.