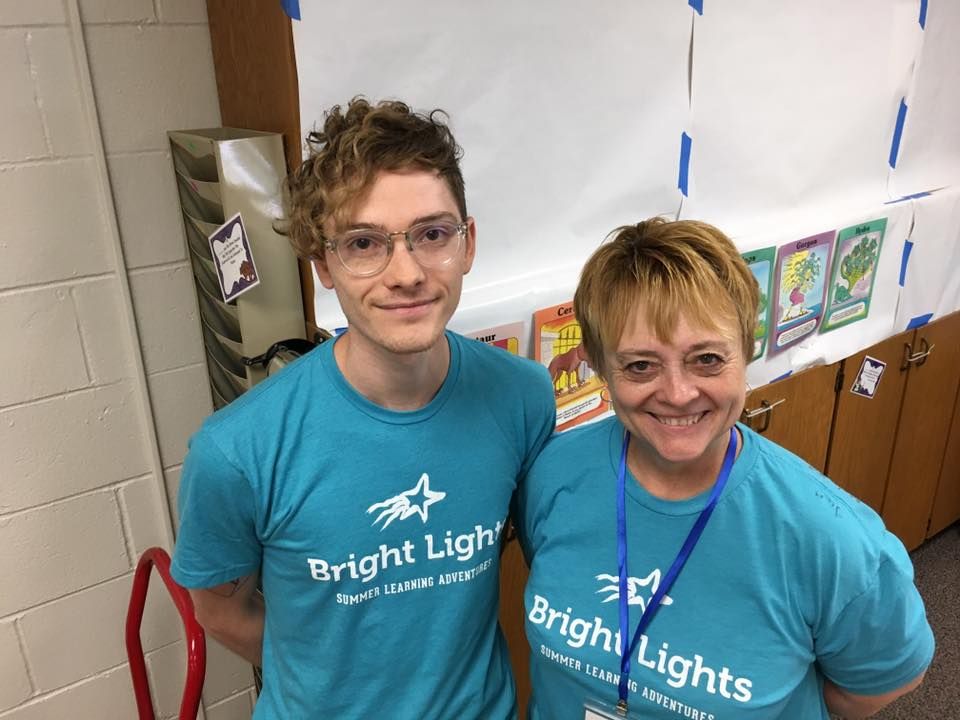 Over 25 years ago while teaching at Zeman Elementary School, Kathy Hanrath (former executive director at Bright Lights) approached me about teaching for Bright Lights, a Summer Enrichment Program here in Lincoln. Kathy's son Andrew was in my 3rd grade classroom then, but my son Nathan was too young to attend this program so I really didn't know much about it. Anyone who knows Kathy knows that she can be very persuasive, so without a huge amount of arm twisting, my own summer enrichment began.
When I first started teaching for Bright Lights I taught the "current shiny thing" classes—whatever was trendy and new. Barb Hoppe (co-founder of Bright Lights) would send me something from a newspaper article and off we would go! A Titanic-themed class was one of my first classes; next, a seafaring journey about the USS Constitution, and then a Nebraska homesteading class. As the students' interests changed, so did some of my class offerings: Star Trek Academy, Dangerous Class for Boys & Girls, Adventures Through Time, Greek Olympics, and Junk Box Physics which morphed into Zombie Physics. As my life changed, Bright Lights started to involve my family as well. My sons Nick and Nate attended classes, then assisted me in classes, and eventually co-taught classes with me. My husband Neal began the Bright Lights journey 15 years ago using his vacation time to teach with me as well!
I've had people question my good sense when, after a lengthy school year (this is my 38th year with public schools), I teach Bright Lights all summer. It's an easy answer…I love it! I relish the ability to teach classes that I'm interested in teaching, and I believe children are interested in as well (did I mention Star Trek!). I teach with talented people from the school district and the community, and I teach with some of my favorite people in the world—my fam!
Two years ago my son Nate got engaged to a wonderful woman and we were thrilled, but when the wedding date was announced and it conflicted with teaching Zombie Physics and the International Program of Bright Lights, we were a little heartbroken! (Son Nick has promised when the time comes for his wedding he will check the Bright Lights calendar and work around it!)
I hope the students that attend Bright Lights have as much fun learning and growing during the summer classes as I've had learning and growing while teaching them. At the end of the summer I'm a little exhausted, but also invigorated, excited and refreshed…ready to start with a new Rousseau class…and ready to think about my next Bright Lights summer!