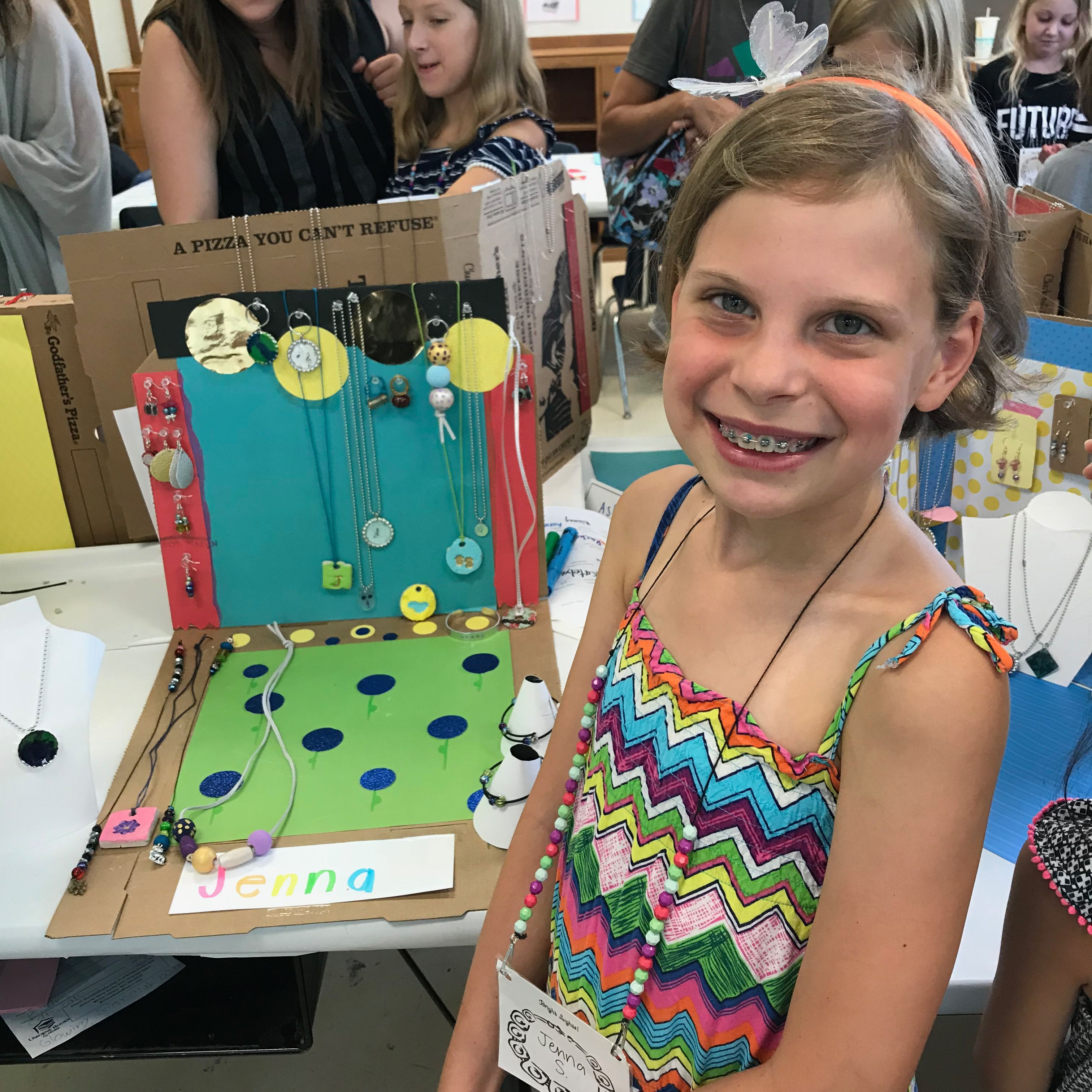 Jenna: I did the Jewelry Design Academy last summer and it was really fun. You get to make a lot of jewelry and keep it. You make things like necklaces using bottlecaps filled with melted crayon, or clay pendants that you make necklaces out of. I also made bracelets, rings, keychains, and earrings. My favorite pieces to design were the Shrinky Dink necklace and matching earrings. My favorite pieces to wear are the leather earrings we made - I have a gold pair and a silver pair and I wear them a lot. What I learned is that when you make the jewelry yourself and don't just buy it, the piece has you in it. The teachers are really nice, and if you like jewelry and designing things, I bet you would like this camp.
Mom: Every summer, I narrow down which weeks we are available and let my kids choose which Bright Lights camp(s) they want to take. Sometimes they surprise me with their choices! Jenna did not have pierced ears when she took this class, but she was so delighted by the jewelry she made that she resolved to get her ears pierced and be very diligent about caring for them so that she could start wearing her new earrings as soon as possible.
Like most Bright Lights classes we've taken, we didn't sign up with a particular friend, but a friend from church ended up being in the class and that friend's cousin also took the class. It was fun for all of us to sit together at the open house and create custom beaded bookmarks as souvenirs from the week. I like that the kids are grouped by interests and not just by grade or neighborhood, so my kids get an opportunity to spend time with old and new friends who share their hobbies. Jenna designed some pieces with herself in mind but also created custom earrings in our favorite colors as gifts for her sister and for me. Her sister was then inspired to get out our craft supplies at home and make necklaces for her aunts and grandmothers!
I think it was great for Jenna to see a teacher from her school (Mrs. Leaf, the Instructional Technology Coach at Rousseau and Roper) in a different light and learn how she and her daughter have pursued their hobbies and turned them into a jewelry-making business. I was also impressed by the sheer number of pieces they created and how many techniques they learned during the week. This summer Jenna is registered for Sew, SO Easy and I can't wait to see what else she will be inspired to design and create with those additional skills!