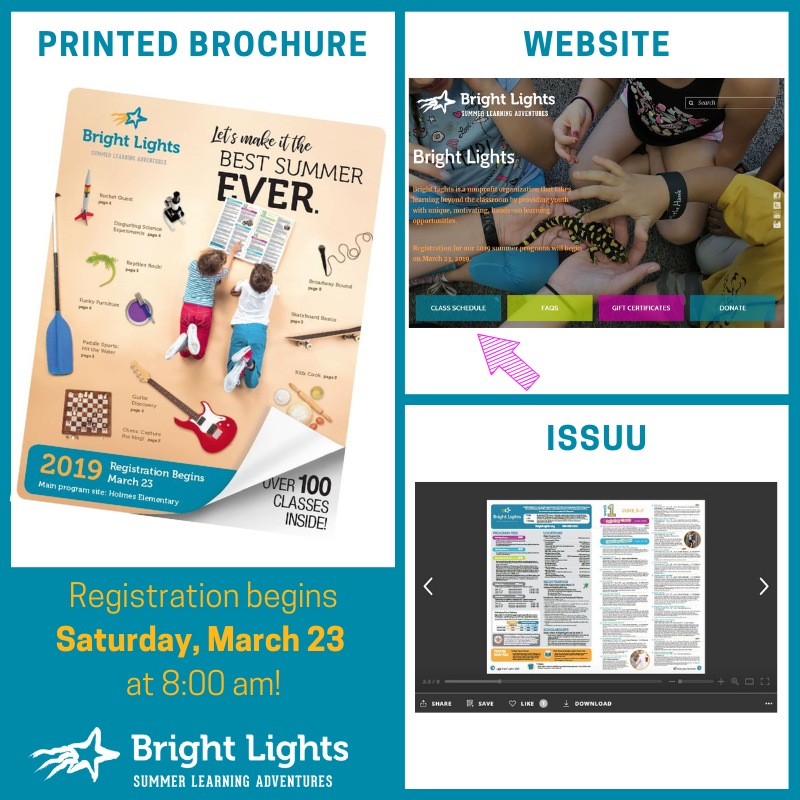 Ready to look into what classes and camps we have going on for Summer 2019? Here's a rundown of all the ways you can see them!
PRINTED BROCHURE
Our printed brochure is out! If you've taken a class with us in the last two years, you should have received one in the mail. There will also be a copy is coming home with all LPS students in the March issue of the LPS Community News, so watch for that. And we've delivered them to many Lincoln-area schools, businesses and organizations who've graciously agreed to distribute them for us. Still need one? Just send us a request!
WEBSITE
New this year, you can view our classes and camps online at BrightLights.org both by week and by grade level! So if you want to narrow down your choices to the week that works for you or the grade that your child is in and then have them pick their class/camp, this is an easy way to do that.
ISSUU
Looking for the layout of our printed brochure but the convenience of getting it online? Get the best of both worlds by viewing our brochure in Issuu. It lets you virtually flip through our brochure and zoom in to see all the details right from your computer. You can even download it so you can view it offline. If you want to view it on a mobile device, we suggest using the Issuu app.
However you choose to view our class and camp schedule, please do it soon—our student registration opens Saturday, March 23 at 8:00 am at BrightLights.org. We are excited to see you during Summer 2019!