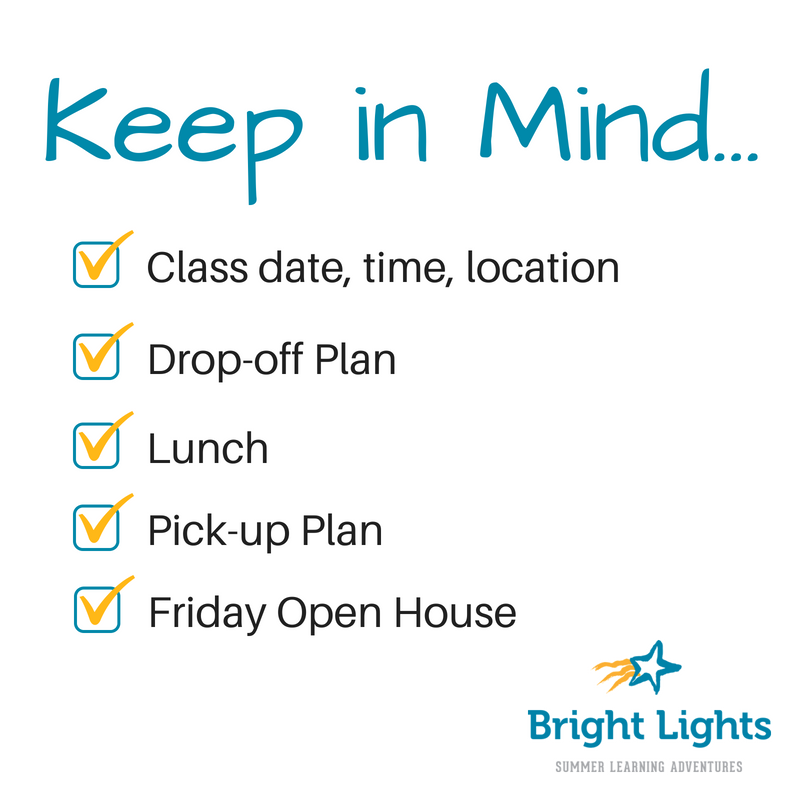 Our first week of classes is approaching fast! As you get your students ready to attend Bright Lights this summer, here are a few things to keep in mind.
BEFORE CLASS
Log in to your account or refer to your confirmation email to double-check your class name, start time and location.
You will receive an email from the class teacher a few days before the class begins, noting special items the students need to bring to class or special clothing that is needed. You will also learn a little bit about the teacher and activities for the week.
ARRIVAL
Remember, our main class site is Holmes Elementary (5230 Sumner Street). We have many classes being held around Lincoln, so be sure to check your account for your class location and address. Our website has information to help you with this; just follow this link to learn more.
If you have registered for Before Care (before a morning class at Holmes), students can be dropped off at Holmes door #4 on the west side of the building starting at 7:30 a.m.
On Mondays only, parents/drivers can take students into the gym to find their class group and meet their teachers.
Otherwise, students may start arriving at 8:45 a.m. or 12:45 p.m. for "First 15" supervision before their class is scheduled to begin Tuesday - Friday. They should enter through door #4 at Holmes and go into the gym right away to meet up with their class and a classroom assistant. There will be many people in the halls to provide direction!
From Tuesday - Friday, students can be dropped off from the passenger side of the vehicle on the west side of Holmes. See our map for the specific area and driving instructions.
If possible, due to the high volume of traffic at arrival and dismissal times, we recommend parents participate in our "Park and Walk" campaign in which we ask everyone to please consider parking a block or two from Holmes and then walking to/from the school to drop-off/pick-up your student(s) using the indicated crosswalks. Either way, we are asking you to be in partnership with us to create a safe drop-off/pick-up environment.
Have students taking Bright Lights classes in different places? Please drop off at the main site (Holmes) first (up to 15 minutes before their class is scheduled to start) and then proceed to the community site. For pick-up, please pick up your student at the community site first and then proceed to the main site (Holmes).
LUNCH
If you registered for Lunch Care for your student— or if they are in a full-day camp which includes lunch care—please be sure to send a packed lunch with them each day.
DISMISSAL
Students in Kindergarten-2nd grades are released from class five minutes early to help you connect with your younger student or help them reach their transportation safely.
At the end of class each day at Holmes, teachers and assistants will bring students outside to the sidewalk on the west side of the building near the supervised drop-off/pick-up zone (see map). Older siblings can join their younger sibling's class for ease of pick-up.
Drivers may pull up in our supervised drop-off/pick up zone (see map) and safety supervisors will assist with locating the students and directing them to the appropriate vehicle. To assist us, please provide both your student's name and class title to the supervisors.
Picking up students at non-release times will require a photo ID of the parent/guardian at the front desk at Holmes or with the community site teacher.
For safety purposes, please note that the Bright Light staff wear orange Bright Lights shirts, teachers wear blue and Classroom Assistants wear lime green. Should you need to contact us during program weeks spent at Holmes Elementary, the direct line for Bright Lights is 402-436-1492.
FRIDAY OPEN HOUSE
Each class will schedule an Open House during the last half-hour of class on Friday. (Some classes may begin earlier so watch for messages from the teacher.) Please allow time to park and walk to the building. Students may leave with parents when the Open House is finished.
We are so excited to spend the summer focusing on the FUNdamentals of learning with your student! Here's to a great summer of exploration and making memories!