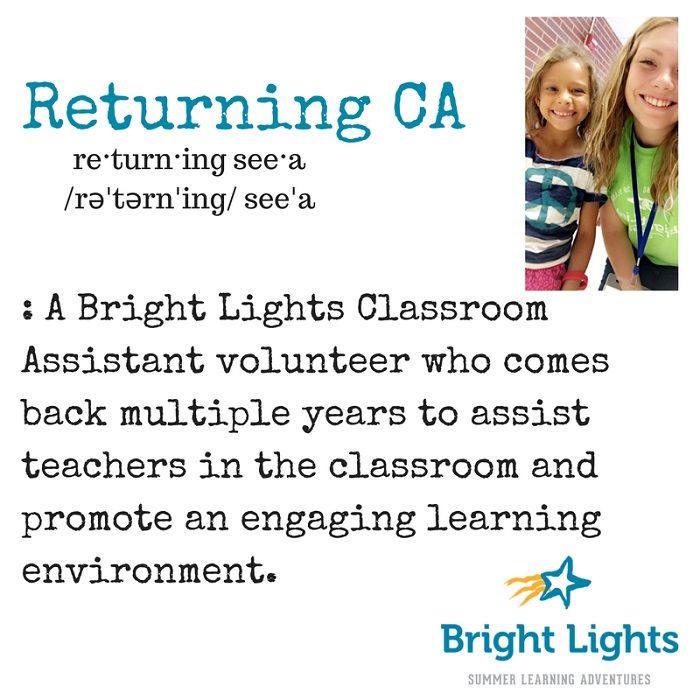 Each year I look forward to welcoming these returners back. They know how to engage kids and make them feel comfortable. Teachers (especially new ones) appreciate their experience. And they serve as great role models for students and new classroom assistants.
For 2018 about 50 assistants are returning to the Bright Lights volunteer ranks. Sixteen of those have served two or more years.
Many of these returners express a willingness to take on more than one class assignment, each of which accounts for about 20 volunteer hours. And they go out of their way to make sure their Bright Lights commitment won't conflict with work, summer classes or other activities.
Why do they keep coming back?
Class Topic: As much as possible assistants are matched to classes by interest. One listed on this year's application that "LEGO Robotics is in my blood." She will help with the Robotics LEGO Mindstorms EV3 Day Camp and a LEGO WeDo Robotics class.
Teaching Experience: Students who have moved on to college to pursue an education degree often return for the classroom experience. One music education major asked to help with three weeks this summer. Another is hoping to get an opportunity to work with multicultural students.
Teacher Request: Lincoln Lutheran junior Rachel Ziems has been helping in her mom Sheila Ziems' Mindbuggling Insects and Reptiles Rock! classes for a few years. Teachers often ask for the same assistants back, which motivates many to return.
It's Rewarding: Returning CA Marissa Hennings, a senior at North Star High School, will be back for a second year. "It's made me want to volunteer more and realize volunteering can be fun," she shares. "I've learned patience and became better with kids in general, and I think it's made me a better worker."
Classroom Assistant applications are still being accepted. Anyone who has completed 9th grade and up can apply. It's a great way to pursue the goal of lifelong learning and support Bright Lights!
For more information, contact Jodi Fuson at classassist@brightlights.org.