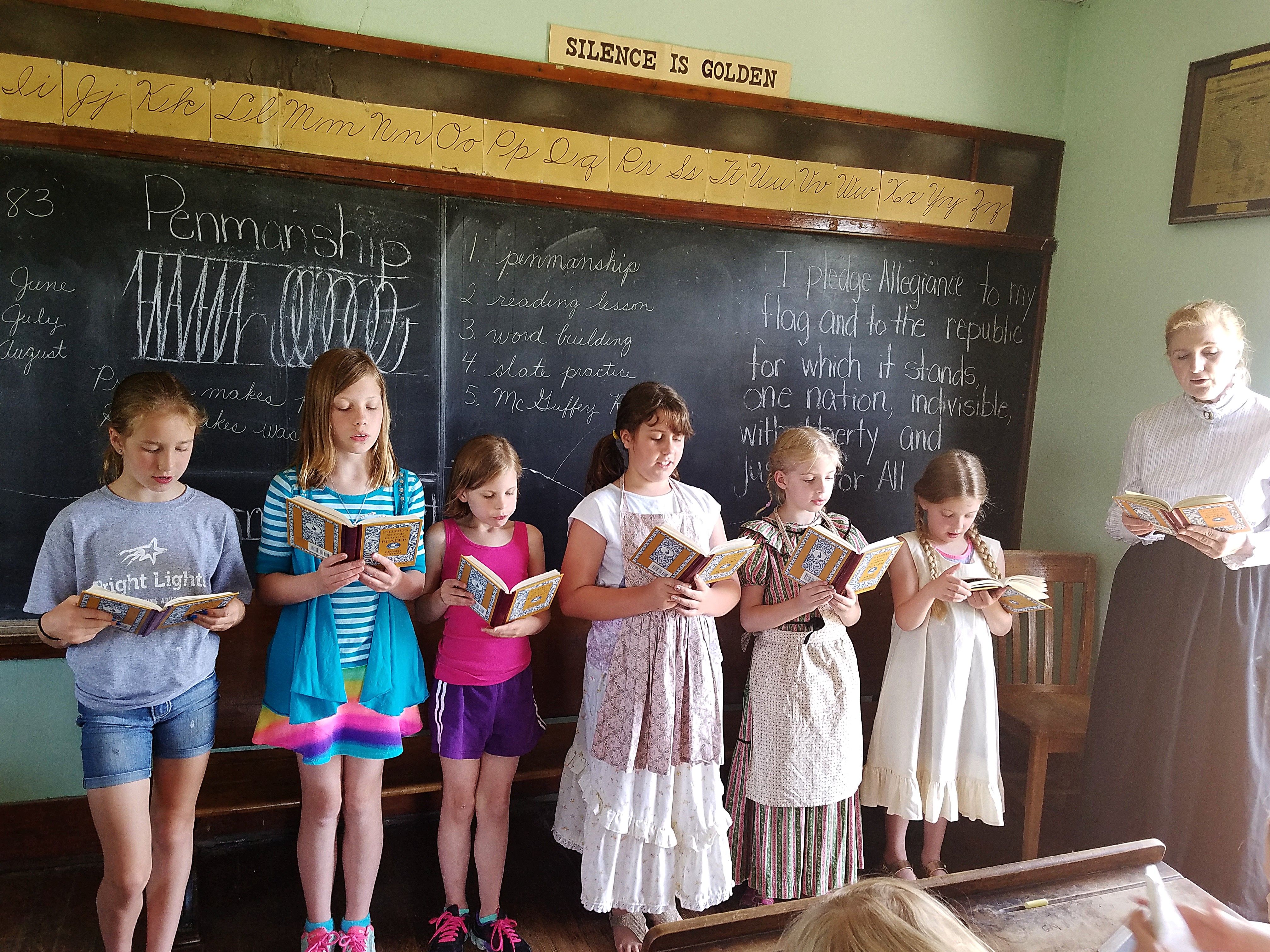 One of the most exciting moments for me as a Bright Lights parent was when I was finally able to register my two daughters for Pioneering with Laura Ingalls Wilder. I grew up reading the Little House on the Prairie books and watching the TV show and I have shared my love of these with my girls. Just the other day they got out the corncob dolls and ragdolls they made last summer and played with them again! I've enjoyed getting to know Mary Ann Gabel, and last week I interviewed her about her amazing career as a Bright Lights teacher.
How long have you been teaching this class?
This summer will be my 25th year.
Why did you choose to teach this class? What draws you to Laura Ingalls Wilder?
When I was asked to teach a class about Laura Ingalls Wilder, it was a dream come true. I started reading the Little House books when I was in 2nd grade and was captivated by the stories. I remember pretending to be Laura and wearing a bonnet my Grandma made for me. As a little girl, I lived on a farm and a wooden corn crib became my "Little House on the Prairie." I was drawn to Laura Ingalls Wilder when I spent time with my Grandma on her farm. I helped her do many pioneer chores that I read about in the Little House books. She showed me how to make soap, render lard, preserve garden foods and how to embroider and sew. My passion for the Little House books continues when I teach the class. I still pretend to be Laura and use my Grandma's antiques for many of the activities in class.
Why do you come back every year to teach for Bright Lights?
For Bright Lights, I love to put on my pioneer clothing and play the role of Laura. For the past 16 years, I have enjoyed working with my assistant, Carol Jobman. It has also been fun to have my daughter, Valerie, assisting me for the past several years. Hopefully, I can instill my passion for the Little House books to young "Laura fans" each year.
What do students experience in your class? What might a typical day look like for them?
We render pork fat into lard, taste the cracklings, churn butter and taste Laura's famous gingerbread. We also make and sample hasty pudding, Johnny cake and biscuits. We square dance, make corncob dolls, ragdolls, sew simple stitches, make paper dolls and sing the songs that Pa sang and played on his fiddle. On Wednesday, the students spend class time at a one room school. By the end of the week, the children see and handle household antiques that are similar to what the Ingalls and Wilder families would have used in their daily lives.
What are some of your favorite activities that you do during the week (or most memorable for the kids)?
A memorable day is when I play the role of Miss Ingalls and time travel back to 1883, Dakota Territory, at Heritage School. The students come to school dressed in their pioneer clothes. They read from a McGuffey Reader, do a penmanship lesson with a quill pen and ink, cipher arithmetic problems using a slate and chalk, participate in a spelling bee and eat a lunch brought in a dinner pail.
How has the class changed/evolved over the years?
I have collected more antiques and Laura memorabilia over the years, so I have more stuff to haul back and forth to my Laura classroom. It has been difficult finding pork fat over the years! I have had to use different sources because small town butcher shops have closed. The biggest change has been technology. I no longer use VHS tapes, but I still use cassettes and CDs when we sings songs from the Little House books. The internet has enabled the students to learn more about Laura and her family over the years. Instead of sending home notes on paper, I can now communicate using emails.
Do you have a favorite memory or one you'd like to share?
A favorite memory was when a boy in my class came to me one day and said, "Mrs. Wilder, please tell Almanzo I said hello." I smiled and told him, "I will!"