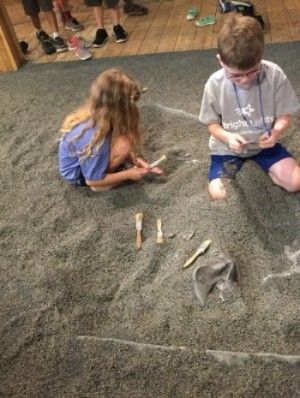 Where can you go from being a Classroom Assistant? One of our current teachers, Kasey Dils, shares his experience:
I started my journey with Bright Lights as a classroom assistant. In ninth grade, my former middle school art teacher reached out to me and asked if I would be willing to be her assistant that summer. Spoiler alert...I agreed to give her a hand. I ended up having the extraordinary opportunity to help out with the international program. This was an eye-opening experience and one I constantly reflect on. Getting a chance to connect with students from Japan, learning about their traditions, culture and way of life in just five days was a life-changing experience. It is an experience I point to when people ask why I wanted to major in Elementary and Special Education. For the next three years, I would re-enroll as a Classroom Assistant helping out in courses like Safari Adventures and Tremendous Time Travels. As a classroom assistant at Bright Lights, I did so much more than pass out papers. I made connections, built community and helped foster an incredible hands-on experience for students.
In my sophomore year at Doane University, I decided I would apply to be a Bright Lights teacher. This was by far the best choice I have ever made. Last year was my first year as a Bright Lights teacher and saying I was nervous would be an understatement. I remember asking Renee [Renee Ford, Education Coordinator at Bright Lights] tons of different questions about what I could and could not do in my classroom. Thankfully, she answered every single one and even encouraged me to ask more if need be. I had an incredible experience as a teacher. I was able to design my class, Diggin' Up Dinos, from the ground up, implementing lessons I thought would be best for the students.
Never in my wildest dreams could I have thought being a Bright Lights teacher could be so much fun. I consider the entire Bright Lights staff as my 'Summer Family.' This year will be my sixth year with the program and I have the opportunity to teach two classes--Diggn' Up Dinos and Hidden In Plain Sight. Still, to this day I have yet to figure out the concoction Bright Lights uses to make the summer program such a blast to attend, assist or work for...but it is one which keeps me coming back year after year.