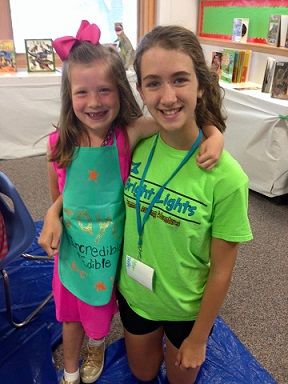 Classroom Assistant recruitment season has begun at Bright Lights! We are looking for high school and college-age volunteers who want to engage our students in learning this summer. Many volunteers discover something about themselves as well as the students! Just read some of the comments from last year's Classroom Assistants:
"These kids amazed me every day with how much they were capable of and the ideas they came up with. There was no lack of enthusiasm or participation."
"They taught me how to be patient and a better overall person. It was a great experience."
"Every year I've been involved I've felt better able to relate to children and communicate effectively with them. It definitely feels like it's preparing me for a potential future in education."
What's it like to be a Classroom Assistant? Here's a look at a typical morning:
• 8:40 –Sign in and head to the classroom.
• 8:45 – Go to the gym to meet the students as they arrive. Take attendance and get to know the students.
• 9:00 – Lead students to their classroom and assist the teacher with activities (including any field trips and the Book Fair). During this time, you can really help engage students in hands-on learning and with classroom management.
• 10:30 – Distribute snack before heading out to the playground to supervise recess.
• 10:45 – Return to the classroom for more activities.
• 12:00 – Class is over! Walk students out to meet their parents.
There are additional opportunities to supervise students in our Before Care and Supervised Lunch programs, or to serve outside of the classroom as an office/snack/supply room assistant.
Online registration opens in less than a month – Friday, March 2– at BrightLights.org. More information can also be found at https://www.brightlights.org/assistants/.
Interested? Register at BrightLights.org starting on March 2. Know of someone who would be a great fit for this position? Please share it with them! And we'll look forward to seeing you this summer!