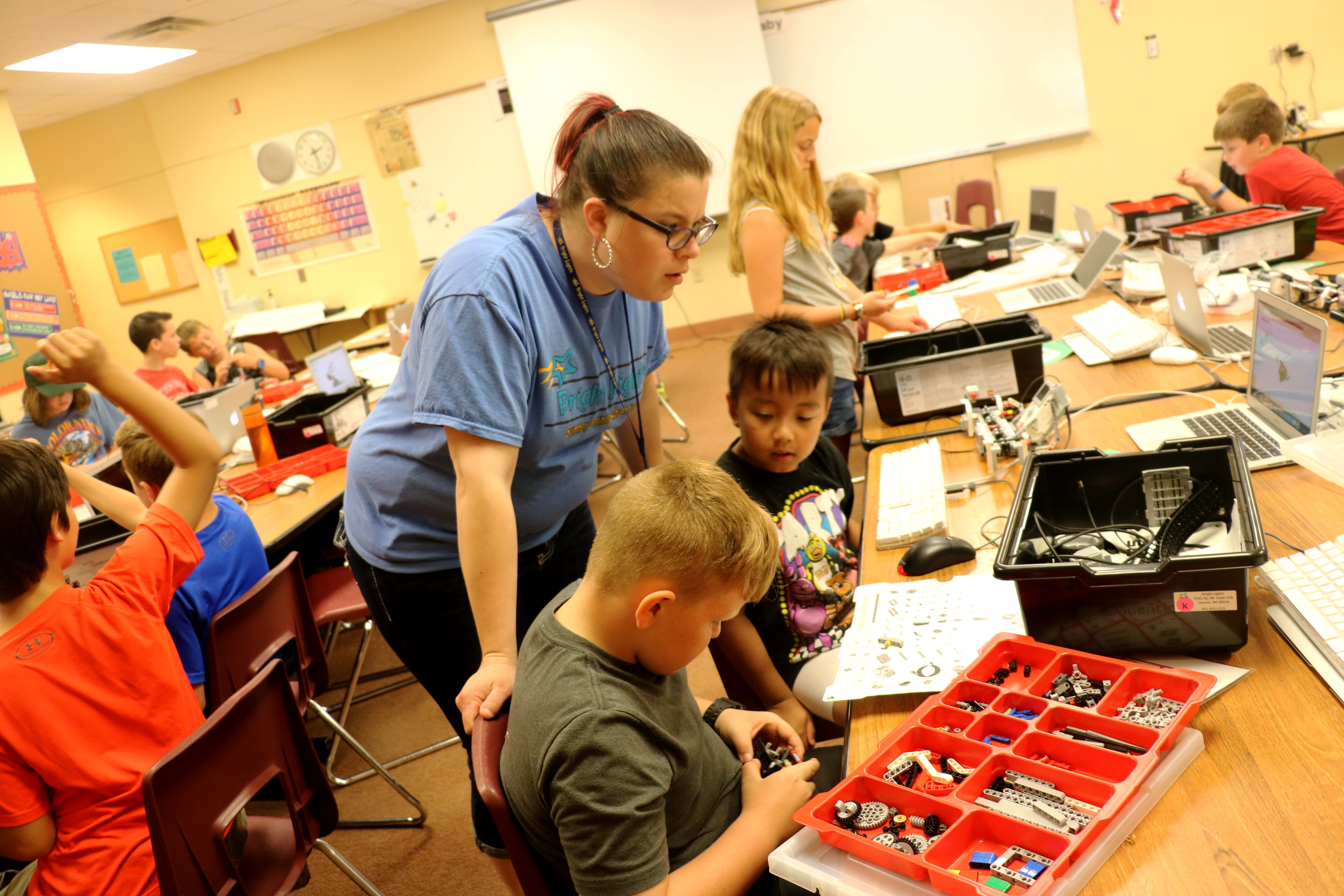 For those of you with school-age children, you're probably familiar with the term "Summer Slide." That's the phrase teachers and education-minded people use to explain the loss of learning that can occur during the summer months if a child doesn't continue to be challenged with academic content. As a former teacher, and as a parent of two daughters, I can definitely attest to the validity of Summer Slide. However, I recently discovered a new term that I love, and one which I feel reflects the philosophy of Bright Lights learning: Summer Stride.
Rather than losing gains made during the school year, students who participate in enriching programs during the summer are able to move forward in their learning (hence the term "stride"). This learning is made all that much easier when the student is excited about the topic, challenged by the content, and retains information because it's related to hands-on experiences and good memories. And the classes don't have to be all math or reading-based; the A in STEAM stands for art, and being creative is a wonderful way to help students form new neural pathways and connections.
I am so excited about our 2018 classes, and how they will help students make that Summer Stride. Here are just a few examples featuring the Art in STEAM:
We are partnering with Harris Academy of the Arts to offer two music-related classes. The first, Piano Playground, will give students who have completed grades K-2 an opportunity to learn music skills including keyboard, playing, singing, note reading, rhythm, and much more. Beginners are welcome! The second class, Fairytale Singers, is for students who have completed grades 2-4 and are interested in a choral experience with choreography.
Perhaps your student is more interested in building and inventing. If that's the case, then our Maker Week will meet their need for hands-on activity and the opportunity to exchange ideas with like-minded innovators. The class will be held at Innovation Studio at Nebraska Innovation Campus, and students who have completed grades 6-8 will be given the chance to work with all types of materials and tools under the guidance of staff and members of the maker space.
If your student likes to make a mess, and you'd rather that happen somewhere else, you're in luck. Bright Lights is partnering with Makit Takit, Lincoln's Craft Studio, to offer three weeks of classes related to slime and splatter! Students who have completed grades 3-5 will don their splatter suits and goggles and create some amazing works of art as they participate in Makit Messy: Slime & Splatter. Students who have completed grades 6-8 won't be left out, as there's a week set aside for them to get messy, too.
If Science, Technology, Engineering and Math are a better fit for your student, we've got you covered with:
• Robotics: LEGO Mindstorms EV3 (Levels 1-3, plus a camp)
• Engineering Day Camp
• Nanotechnology & and 21st Century
• Genetic Engineering
• Use the Force: The Physics of Motion
Keep an eye on our website as we post our classes and descriptions, and start discussing with your student what he or she finds interesting. Registration is March 24 starting at 8 AM and you'll want that list handy! With 114 classes and 4 camps, I'm certain that your student can find a class (or more!) that fits his or her interests and helps replace Summer Slide with a strong Summer Stride.