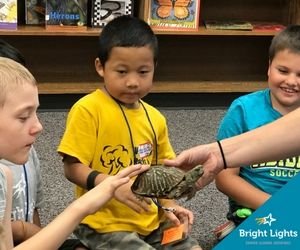 Snow may be in the forecast, but here at Bright Lights we are thinking about summer! We're hard at work designing classes and hiring teachers to fill our five weeks of programming with hands-on, minds-on courses. Many favorites are returning, and we are excited to offer some new classes and partnerships to spark summer learning and activity. Here's a sneak peek at a few classes that will be offered:
Don't be "pokey" registering for our Pokemon Art class June 4-8. We're once again offering this popular class to students in grades 2-4, and we've even added another section in the afternoon due to the tremendous response last year.
Oui Oui! Do you like to cook? Then our French cooking class might be just the thing for students in 6-8th grades to expand their culinary interests. Held June 11-15 at Southeast High School.
"Wood" you like to build something? Join us during our International Week at Lux Middle School, June 18-22. You will work with other 6-8th graders, including students from Japan, to learn woodworking skills as you complete a project that will be both useful and a great memory of the class! Woodworking Exploration will cover safety rules, the design process, and give hands-on experience.
If you have a K-2nd grade student who is a fan of the Wild Kratts show on PBS, our Krazy for Animals class might be a perfect fit. Much like the show, students will explore creature features and make their own Creaturepedia at Holmes Elementary (our main site) June 25-29.
Students in grades 3-6 will once again be able to attend Hogwarts during the very popular day camp, held June 25-29. The all-day immersion in the world of Harry Potter and friends is a Bright Lights oldie but definitely a goodie.
Now that you are excited about the classes, make a big red circle around Saturday, March 24 on your calendar. This is the date that registration will begin at BrightLights.org! Keep checking our website for class schedules (posted mid-February) and additional information about new and returning classes.