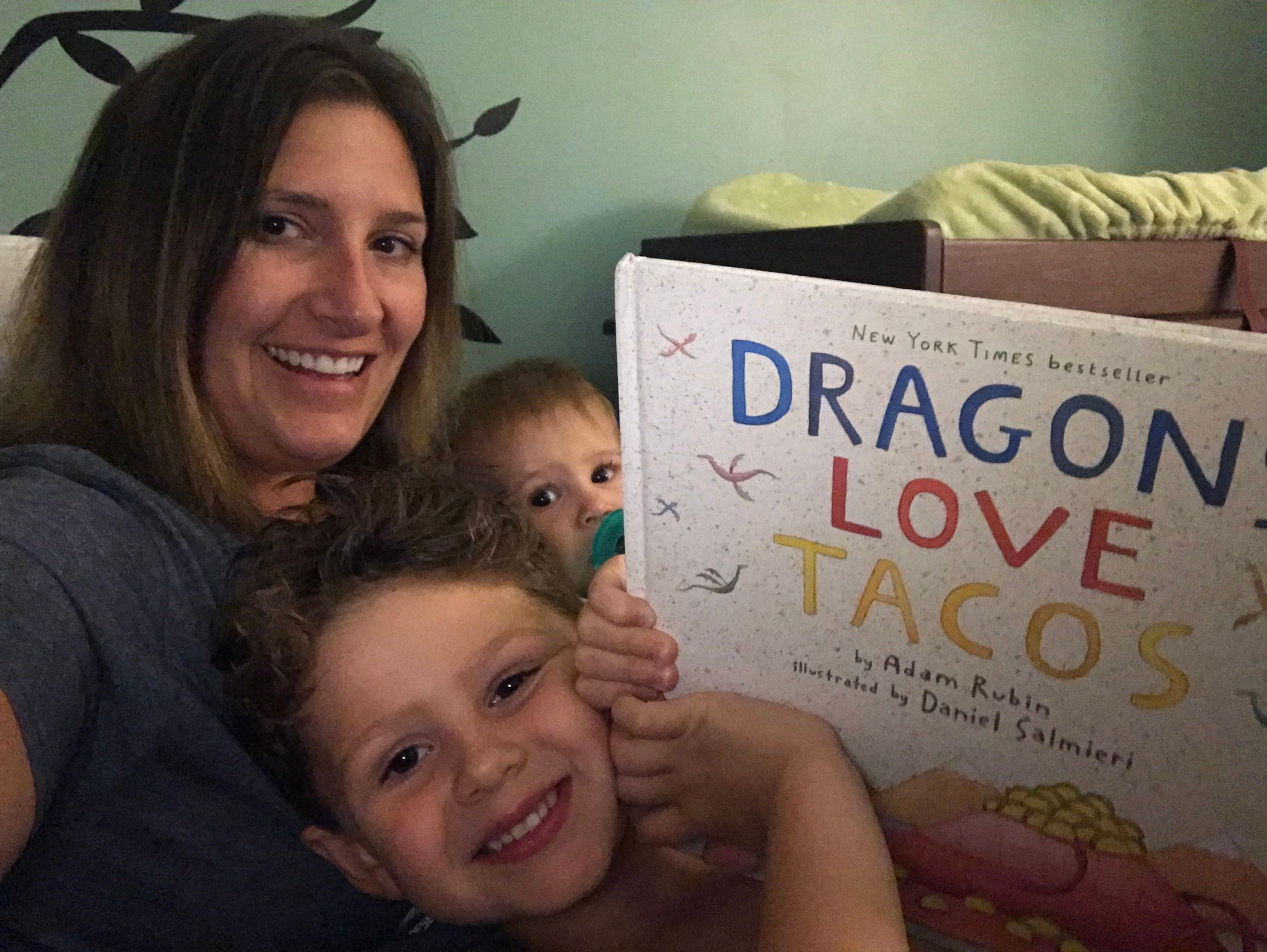 Posing for a selfie with my two sons, Liam, 5 and
Max, 11 months, with Liam's favorite bedtime story
at the moment. I've enjoyed sharing Bright Lights with
my family and can't wait for my sons to attend.
_____________________________________________________________________________
Each fall, Bright Lights' Board of Directors gathers for our annual meeting in November. For the past year, I've had the opportunity to serve as president of the board. Leading an organization that's been around for 31 years was not something I took lightly. This role has challenged me to become more involved in the day-to-day operations of the organization and allowed me a first-hand glimpse into the hard work and dedication it takes year-round to ensure a successful summer. In the past year, we saw our executive director retire and I facilitated a search for a new executive director, ultimately hiring Lisa Sypal for the role. Bright Lights is very fortunate to have Lisa to lead the organization into the future. She has already made a difference in the organizational culture and overall business operations.
It's no surprise that the busy year went very quickly and before I knew it, I was turning over the role as president to Stephanie Rodriguez. Stephanie's vice president will be Tina Reeves and the Treasurer will continue to be Jake Muhleisen. For the first time in nearly a decade, Bright Lights will have a new secretary as Kelley McKay will now dutifully record our meeting minutes as the new secretary. Kelley assumed her role as our long-time secretary Monica Henkenius has retired from the Bright Lights Board.
In fact, we had several board members retire from the board this year who served the organization for many years. In addition to Monica Henkenius, Jody Olsson and Sean White also retired from the board. I can say without a doubt that these three board members have made a lasting impact on the organization and undoubtedly contributed to the success of the organization in so many ways, both big and small. From financial support to serving as president of the board and providing sound counsel and advice, Bright Lights wouldn't be the same without the time and commitment from Jody, Monica and Sean.
At the end of every year, I always look back on the year and everything I dedicated my time to that year. I'm proud of all we accomplished at Bright Lights this year and soon we'll begin working on a new strategic plan that will help take the organization into the New Year on a strong footing for our next president, Stephanie, to enjoy a successful term as president of Bright Lights.