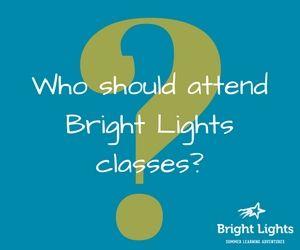 "Who should attend Bright Lights classes?"
This is a question we receive frequently, as parents and guardians decide what activities to plan for their son/daughter/grandchild in the summer. Our answer is very simple: Bright Lights is for all students. It is not a program solely for identified gifted or high ability students. In fact, the beauty of Bright Lights classes is that curiosity is all that's really needed to make a child a good candidate for attending one of our classes or camps.
We like to say, "Hands-on, minds-on," to convey that classes focus on student-centered activities that help them cultivate their enthusiasm, excitement and curiosity for the topic. One parent wrote, "My daughter loved her Genetic Engineering class! The hands-on learning (they got to modify genes) and engaging material presented by the top-notch teachers finally got her excited about science!"
Bright Lights teachers do an excellent job of creating an environment where interesting questions can rise up. Students are then encouraged to investigate the answers and feel connected to their learning, whether that's through finding the best way to sew a seam in a dress or deciding what colors to mix to find the best shade of blue for their masterpiece. Or, as the parent referenced above, figuring out how to modify genes to make them glow in the dark!
Albert Einstein once said, "I have no special talents. I am only passionately curious." Bright Lights can't wait to help foster that curiosity in your child!