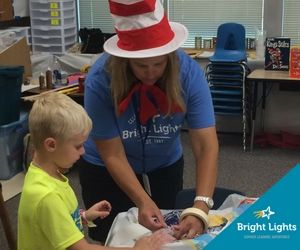 Last week I praised the variety of classes that Bright Lights has to offer students in the summer. I pointed out that teachers create the variety, choosing topics they are passionate about and sharing their enthusiasm and subject-matter knowledge with students. Bright Lights wouldn't exist without our capable, creative and committed team of teachers. And we're always looking to add to our team!
So what's involved in being a Bright Lights teacher? First, you don't have to be a certified teacher. We have many instructors who are members of the community that have a skill to share, or are retired professionals looking to inspire the next generation. As a teacher, you commit to creating a STEAM-based curriculum (with our help, if you need) that is suitable for a grade range (again, you get to pick…are you better with younger kids? K-2 might be your audience). You attend a training meeting, and teach for a week in the summer (June or July), choosing a half-day morning or afternoon class (or you can do both if you're really motived). Or, maybe your class is a camp; in that case, you work with students 9:00-4:00 PM, Monday through Friday. You can even co-teach with a friend!
The benefits? You're paid, you spend 15 hours with students who chose to be there, and you get to share your passion with tomorrow's leaders.
Are you interested in teaching for the love of learning, and with the support of other amazing teachers? Even if you don't have an idea for a class, but would like to learn more about teaching for us, we'd love to hear from you. Contact Renee Ford, Education Coordinator, at teacherrecuit@brightlights.org.