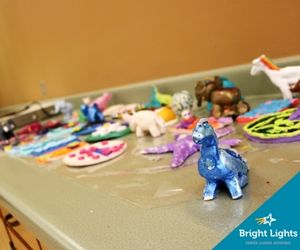 One of the first things that struck me when I started as Education Coordinator was how many different kinds of classes Bright Lights offers. And not just different sections of the same class – completely different skills, like sewing versus kayaking. There are even sub-sets of the same topic: do you want to learn about turtles or would you prefer to hang out with reptile friends?
This variety is beneficial to students because they can find something that speaks to their learning styles and interests, exploring potential hobbies and careers. They can also take Bright Lights classes year after year and always have something new.
Teachers create the variety in classes, choosing topics they're passionate about, sharing their enthusiasm and subject-matter knowledge with students. Bright Lights is a creative outlet for teachers who may feel limited by classroom testing and scheduling demands.
We work very hard to include components of STEAM (science, technology, engineering, arts, and math) into each and every class. This summer, students in Over the Rainbow learned map skills as they traveled the yellow brick road (math) but also learned about protecting their bones by eating healthy and observing safety rules (science). And you thought it was just a story!
We are always looking for new class ideas to add to our curriculum. Send your ideas to teacherrecuit@brightlights.org and let us know what you think students want to learn about next!