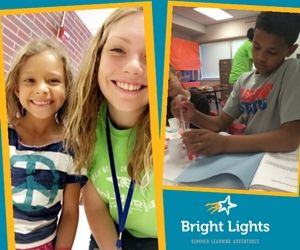 For the Bright Lights staff, the end of the school year means it's time to wrap up those final details for our summer programming, hold orientations for our teachers and classroom assistants, order T-shirts, finalize class registrations and finish recruiting volunteers to assist in our 100+ classes.
During the summer we rely on hundreds of volunteers to help us run our programs, including around 200 Classroom Assistants. Completed ninth grade students through adults may apply. Those assistants lend their muscle and time to move supplies in and out of our main site at Holmes Elementary and work alongside teachers in the classroom to ensure a safe and engaging learning experience for our 2,000-plus grade K-8 students.
So as you plan for summer, would you consider volunteering as a Classroom Assistant? No teaching experience is required. Just ask Classroom Assistant Bonnie Bake. This is the retired medical transcriptionist's seventh year helping with Bright Lights' Cooking Easy, Delicious Dishes class." I just like working with children, and I love to cook, so that's why I felt this would be a good place for me to volunteer," she says.
Apply now! There's even room to list your interests so you can be matched with a class that best suits you. Both half-day classes and full-day camps are available. Many classes still need assistants including the following:
• Clay Expressions
• Bubble Festival
• America's Girls Adventures
• Rocket Blast
• Eye on the Sky: Weather Watchers
• Sew, SO Easy
Program weeks are June 5-9, June 12-16, June 19-23, June 26-30 and July 10-14.