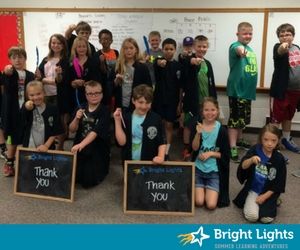 Mark your calendars: Give to Lincoln Day is right around the corner! This Thursday, May 18th, we encourage YOU to give to Bright Lights. However, you don't have to wait until Give to Lincoln Day to provide the gift of summer learning. You can donate anytime from now until May 18th and your contribution will be matched!
This is your chance to make a true impact on the lives of Lincoln-area students by supporting an organization that takes learning beyond the classroom by proving students with authentic, hands-on learning opportunities. Maybe you attended Bright Lights yourself, or have sent your child to Hogwarts Academy or LEGO® Robotics and understand the value that Bright Lights adds to your children's summer and to the community itself.

"It was cool to see cows at an organic farm and sample homemade cheese."—Student

"My class was SOOO much fun. You could decide what you wanted to do. You learned about topics that will really take place in our futures."—Student

"Kids are getting excited about science at Bright Lights. This environment is a safe and fun place to learn, grow and show others what they know. I loved seeing kids try and experiment and then explain why or how something works. Learning is fun!"—Teacher

"As a parent, I can only imagine how hard it is to develop a program that competes with playing outside, computer games, the pool, and getting kids excited about going BACK to school during summer. Bright Lights did it." —Parent

"Thank you for supporting this program, for all who take the time and dedication to make this a great program a success, and for making it a memorable experience for my kids. We will always support a program that continues to further a child's education and learning experience. If we as adults don't provide the opportunities to children, then children won't have those opportunities. So, once again, thank you… A job well done!"—Parent
When combined with the community matching funds provided through the Give to Lincoln Day event, your generosity will help to ensure that elementary and middle school students in Lincoln continue to explore beyond the typical classroom while learning new skills and maximizing their summer fun.
Please consider including Bright Lights on your Give to Lincoln Day list.
Stop and say hi!
If you're downtown on May 18, please come see our booth at Tower Square (13th and P Streets)! We'll be there from 10:00 am- 2:00 pm. with some very special critters to meet!