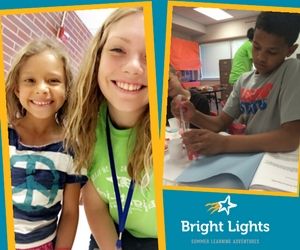 There are many ways to support Bright Lights all year long!
Help take learning beyond the classroom! Quality summer learning is a vital part of students' academic success. Bright Lights provides programs that promote and enhance creativity, the mastery of new skills and keep students from the "summer slide." YOUR support, dedication and enthusiasm preserves Bright Lights learning programs.
---
Your
tax-deductible donation
can take many forms:
Class Sponsorships contribute to the cost of classroom rental, supplies and teacher salary. A great way to ensure a variety of classes and subjects for summer!
Scholarship giving allows children who need it the most, quality summer learning. Each year approximately 300 students receive a scholarship to a Bright Lights class. This gift allows a diversity of education for all students.
General Fund giving contributes to the overall operating costs of the program, including: health and safety, insurance, background checks, materials and teacher salaries. Program fees cover roughly half of operating expenses - the rest comes from our community and people like you!
Give to Lincoln Day takes place on May 18th and donations made through the Bright Lights page are proportionately matched by the Lincoln Community Foundation. This year online donations are accepted from May 1-May 18th.
---
Other opportunities to support Bright Lights may include:
Voluntary Price Option provides registrants the opportunity to cover the entire cost of the class, whereas the program fee only covers 54% of the actual program cost. Choose from three voluntary options when you register for a class!
Dine & Donate fundraisers are hosted by Bright Lights at local restaurants throughout the summer. These restaurants generously give back a percentage of proceeds to Bright Lights. Check our webpage or social media channels for upcoming opportunities to participate!
Volunteering as a Classroom Assistant is an opportunity to help support the teachers, ensure student success, and provide a rewarding experience that makes a difference in the classroom.
Volunteer assistance is something we always appreciate. Giving of your time is incredibly valuable to us and we would love to have you volunteer your time at Bright Lights! Simply apply to learn more and get started.
---
To learn more about supporting Bright Lights, please visit
https://www.brightlights.org/support
, and remember to visit
Give to Lincoln
between May 1 - 18.
Your continued dedication and Lincoln's enthusiasm for Bright Lights keeps our summer program for children strong.