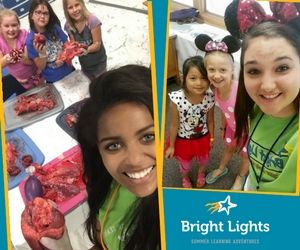 With April being National Volunteer Appreciation Month, and today actually being Volunteer Recognition Day, we'd like to take this opportunity to thank a special group of volunteers: the amazing students and adults who volunteer as Classroom Assistants with us each summer.
What is a Classroom Assistant?
Our webpage says it best. But in short, Classroom Assistants are AWESOME volunteers ages 9th grade to adult that:
• Attend our summer classes to help support the teachers
• Are positive role models for students
• Help students engage in hands-on learning
Assistants can choose to help with a half-day class or a full-day camp and can even pick the weeks and class topics that appeal to them! It's a great time to complete the required 20 hours for GOPO or volunteer hours.
What's it like to be a Classroom Assistant?
The work isn't hard but it is fun and rewarding. Depending on the class/camp you assist, you might be working with small groups of students on a task or project, reading to them, preparing class materials, coordinating games or working with individual students. Office assistant positions are also available. If you happen to be considering a career in teaching, being an assistant is a great way to build your resume while observing different teaching and learning styles plus classroom management techniques.
Here's what a few of our past Bright Lights Classroom Assistants had to say:
"I am always reminded of how creative little kids are, and working with them helps me to see situations in a different light in order to reason with them or explain something. They made me laugh a lot."
"It was refreshing to see kids so engaged in learning."
"I learned that I may want to do something with children and a future career."
When are Classroom Assistants needed?
During all five of our Summer 2017 program weeks!
High school students (completed 9th-12th grade), college students and adults are invited to apply. College education majors are also encouraged to consider this opportunity. College students will receive a certificate of appreciation suitable for portfolios and resumes. All first and second year Classroom Assistants will attend an orientation session to walk them through the responsibilities of the position.
Share this opportunity with a friend!
We need LOTS of Classroom Assistants every year—about 250!—so go apply for this opportunity yourself and then share it with a friend! For questions about this rewarding opportunity or about classroom assistant placement, please contact Jodi at 402-420-1115 Ext. 49 or classassist@brightlights.org.